Some of the links below are affiliate links, meaning, at no additional cost to you, I will earn a comission if you click through and purchase. As an Amazon Associate I earn from qualifying purchases through links in this post. See our Privacy Policy & Terms of Service to learn more.
This recipe goes out to all my fellow pizza lovers! Here is a new and incredibly easy way to serve up an old favorite. Try these low carb pepperoni pizza muffin bites and satisfy your craving!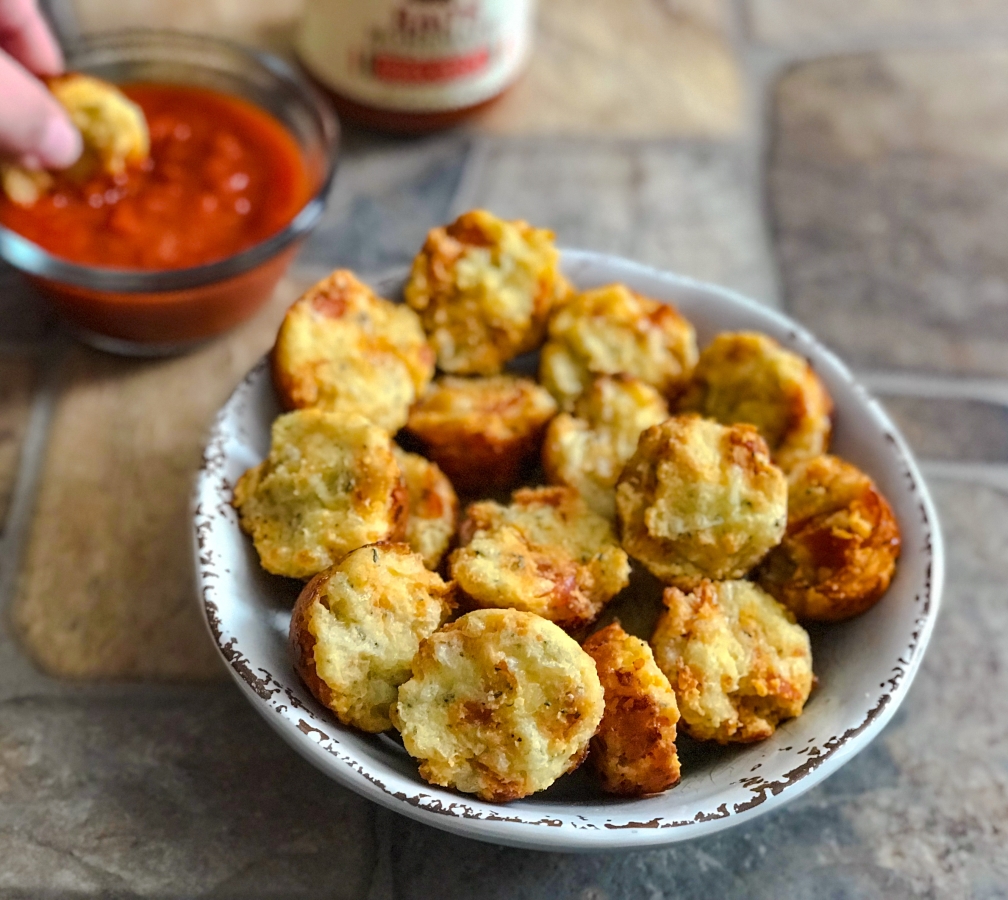 Click HERE to Pin Low Carb Pepperoni Pizza Muffin Bites
Keto/Low Carb Pepperoni Pizza Muffin Bites ?
Pizza is my husbands favorite food. Now that we are living a Ketogenic lifestyle, Pizza is something that we have missed big time. Of course there are ways to make low carb versions of Pizza such as Fat Head Pizza and cauliflower crust pizza, but none of these recipes really filled that pizza sized void in our lives. They're just not the same. It's hard to duplicate the simple yet so complicated food that is pizza.
If you still haven't perfected your pizza-replacement recipe, I have good news! These pizza muffin bites are the perfect replacement! They were a HUGE hit! I wasn't sure how these were going to turn out but we were so shocked! These are perfectly crispy around the edges and oh-so-soft on the inside. Mozzarella cheese combined with Italian seasoning made for the perfect pizza replacement!??
How to Make Low Carb Pepperoni Pizza Muffin Bites: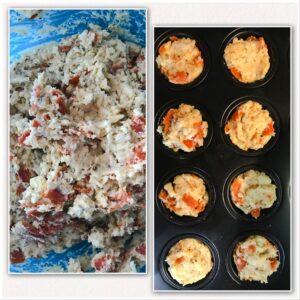 Mix together all dry ingredients. Then blend in the milk, egg, and cheese. Mix in the chopped pepperoni.
Fill your mini muffin pan with the dough and bake for 12-15 minutes.
The dough is thick! Which is perfectly fine. 🙂
These are so delicious right out of the oven, but if you do end up having a little bit of will-power and save some as leftovers, store them in an airtight container. Then, when you want another, pop it in the microwave for a couple of seconds and you'll get that same great taste and texture you did when they first came out of the oven.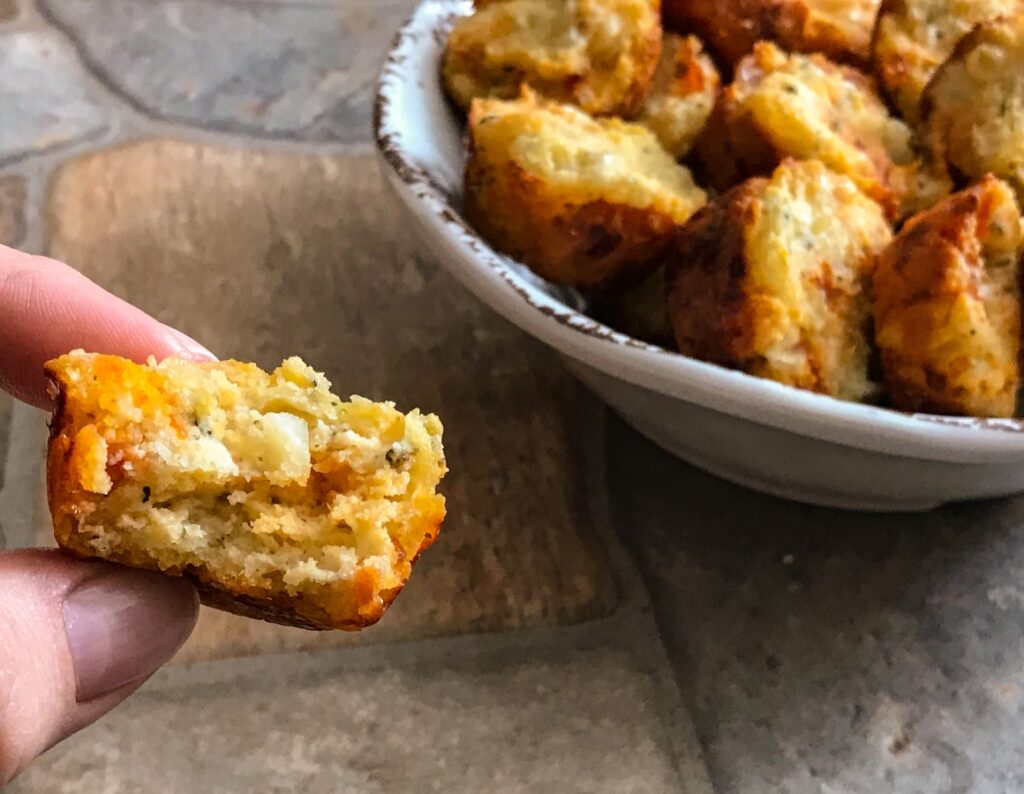 One of the reasons I think we liked these so much is because the almond flour was pretty much undetectable. Don't get me wrong, we love cooking and baking with almond flour now, but sometimes "almond" just isn't the best complimentary flavor. Luckily, you really can not taste the almond flour in these pizza bites at all! Instead of tasting almond, you'll be enjoying the melt-in-your-mouth flavor of pepperoni, mozzarella, parmesan, and italian seasoning!
Pro Tip #1 Key Ingredient

Just like in our cookie recipe, Xanthan Gum is the MVP here. Xanthan Gum isn't absolutely required but it does help to hold these pizza bites together and give them an authentic pizza consistency.
Pro Tip #2 The Dipping Sauce
We love Rao's! When we were just starting to eat low carb, this was one of the first products we fell in love with. We use their marinara sauce for so many things. It's so good! Sure, there are cheaper options, but Rao's is worth the price so we go with them every time. Not only does it taste great, but the macro nutrients are excellent! Only 2 net carbs per serving compared to other brands with two or three times that and plenty of added sugar.
Must-Haves For Recipe:
Rao's Homemade Sauce – Everyone loves a good dipping sauce! this low carb sauce does not dissapoint!
Xanthan gum – Like I said earlier, this help keep ingrains together and adds consistency and texture to these.
Almond flour – You need this for your low carb dough!
Nutrition (per muffin) 22 Servings
Calories: 70.3 | Fat: 5.9g | Carbs: 1.14 | Fiber: 0.59 | Protein: 3.3g | Net Carbs: 0.6g
Click HERE to Pin Low Carb Pepperoni Pizza Muffin Bites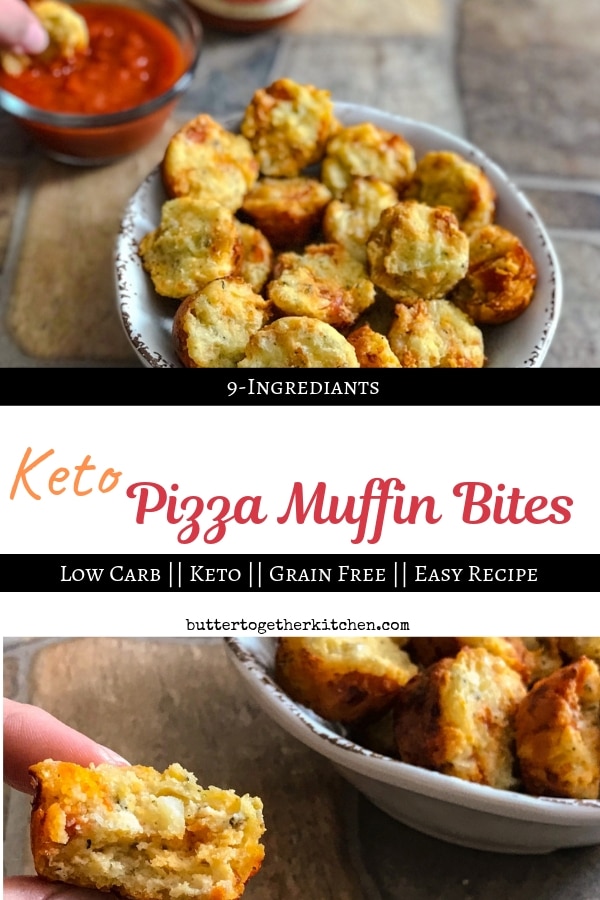 Have you tried this recipe or any other recipe on the blog? Please rate it below and let us know what you think in the comments! We love hearing from you!
You can also share it on instagram and use the hashtag #buttertogetherkitchen and we will feature you on our page.
Enjoy!
Other Recipes You Might Enjoy:
Keto Pizza With Homemade Sauce

Low Carb Pepperoni Pizza Muffin Bites
This recipe goes out to all my fellow pizza lovers! Here is a new and incredibly easy way to serve up an old favorite. Try these pizza muffin bites and satisfy your craving!

Ingredients
1/2 tsp baking powder
1 tsp italian seasoning
1/4 cup Heavy Whipping Cream + 1/4 cup water
1 large egg
1/2 cup mozzarella
1/4 cup parmesan cheese
1/2 cup chopped pepperoni
Instructions
Preheat oven to 350 degrees.
In a large bowl, mix together almond flour, baking powder, xanthan gum & Italian seasoning.
Mix in the milk, egg & cheese.
Add in diced pepperoni until well blended in to the mix.
Grease mini muffin pan and fill 3/4 full with batter.
Bake 12-15 minutes or until golden brown around edges.
Enjoy warm with marinara sauce for dipping, if desired.
Notes
These would also taste great with bacon or sausage pieces.
1/4 cup heavy whipping cream + 1/4 cup water replaces milk. If you prefer milk, then you can use 1/2 cup milk.
These only took about 12 minutes to cook in a mini muffin pan. If want to use a standard muffin pan, you will want to bake them about 17 minutes.
Nutrition Information:
Yield:

About 22
Serving Size:

1
Amount Per Serving:
Calories:

70.3
Total Fat:

5.9g
Carbohydrates:

Net Carbs: 0.6g
Fiber:

0.59g
Protein:

3.3g
Nutritional Disclaimer: We are not certified nutritionists. Nutritional data is provided as a courtesy. The information provided is calculated through a free-web based nutrition calculator and is not guaranteed to be accurate. To ensure we provide you with good information, we look at a variety of calculators.
SaveSave
SaveSave
SaveSave
SaveSave
SaveSave
SaveSave
SaveSave