Some of the links below are affiliate links, meaning, at no additional cost to you, I will earn a comission if you click through and purchase. As an Amazon Associate I earn from qualifying purchases through links in this post. See our Privacy Policy & Terms of Service to learn more.
This Low Carb Orange Creamsicle Cake is as refreshing and flavorful as your favorite frozen treat! This cake will become your new favorite keto summer treat.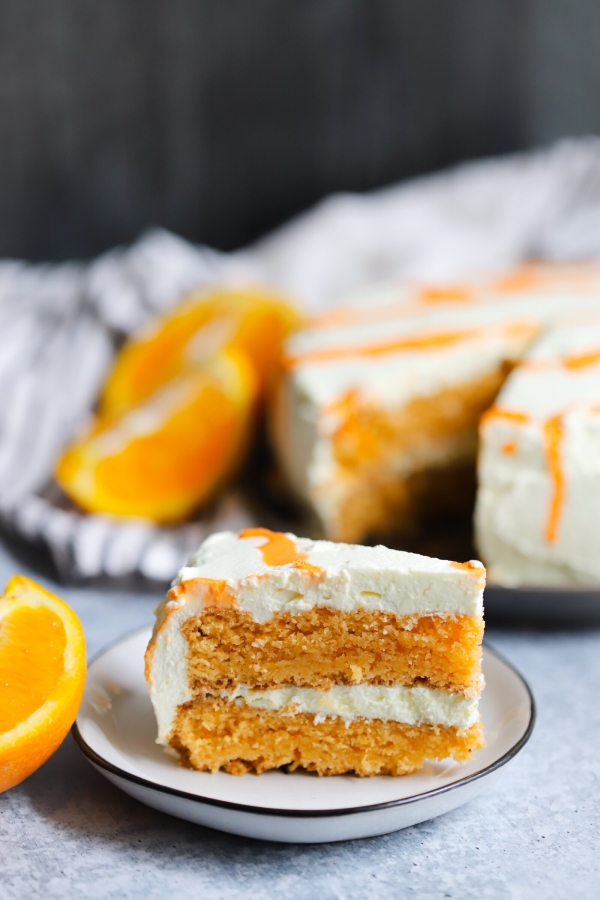 Click HERE To Pin Low Carb Orange Creamsicle Cake
Low Carb Orange Creamsicle Cake
Creamsicles are a summer tradition. I have fond memories of chasing down the ice cream truck in the summers so I could buy an orange creamsicle.
The sweetness and flavor of an orange popsicle mixed with the refreshing coolness of vanilla ice cream is second to none. There is nothing better! Well, at least, there used to not be! This awesome Low Carb Orange Creamsicle cake is as tasty and refreshing as your favorite summer treat, but without the sugar or carbs!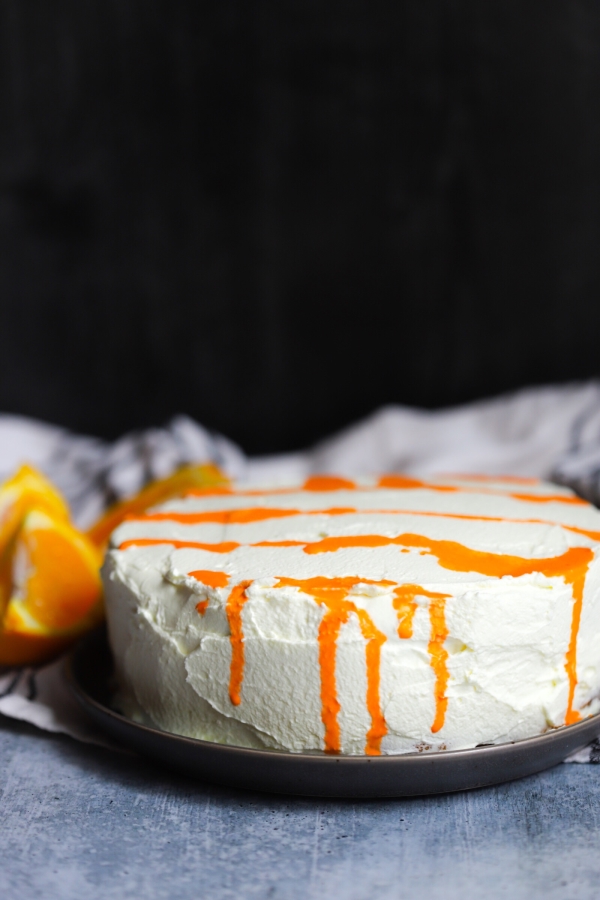 Is Orange Creamsicle Cake "Keto"?
It's important to remember that "keto" is a metabolic state, not an ingredient. Technically speaking, anything is "keto" as long as you are able to eat it and maintain your state of ketosis.
Now, I don't recommend eating obviously unhealthy foods, but it is worth pointing out that there is no designated list of "keto" foods.
With that in mind, you should know that this cake will not kick your body out of a state of ketosis. As you will see in the recipe card, there is just a little bit of orange zest in this recipe, and 1 tsp of orange juice.You could even use orange extract if you want to pass on the tiny amount of orange juice in this recipe.
A slice or two of this cake will not affect your state of ketosis at all, and even if you eat the entire thing (which I don't recommend, but I would certainly understand if you can't resist) you would probably be okay. So, long story short, this yummy cake is definitely "keto!"
Cooking With Mom Series: Orange Creamsicle Cake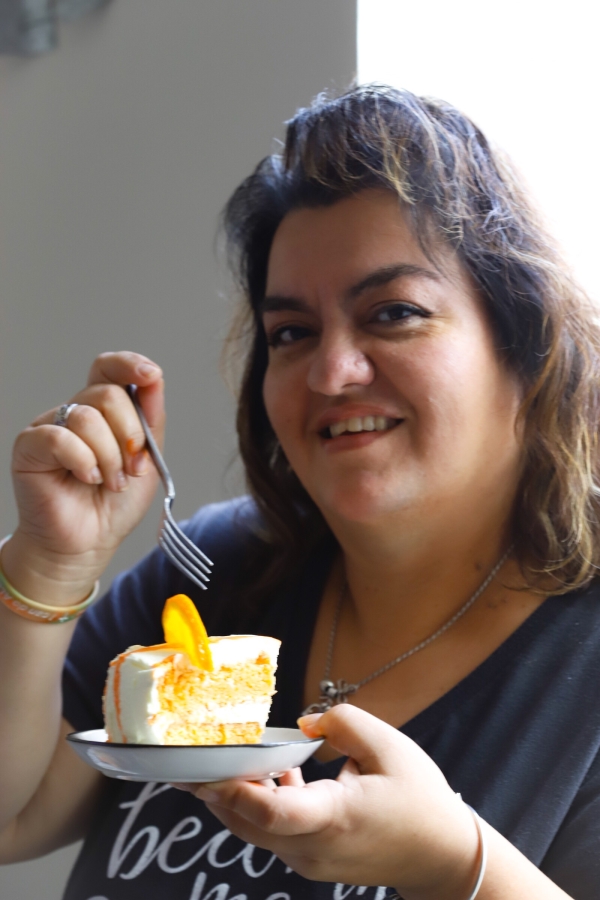 This week my mom came over and whipped up this awesome cake with me. She will always think of a recipe, test it out a few times so that its perfect, and then come over and make it with me so that I can share it with you!
Some of her most popular recipes that are on the blog have been her Best Keto Buns, her yummy Low Carb Apple Crisp., and most recently, her Keto Coffee Cake. My mom is the best cook I know, so I am sure you will love all of her recipes.
How To Make Low Carb Orange Creamsicle Cake: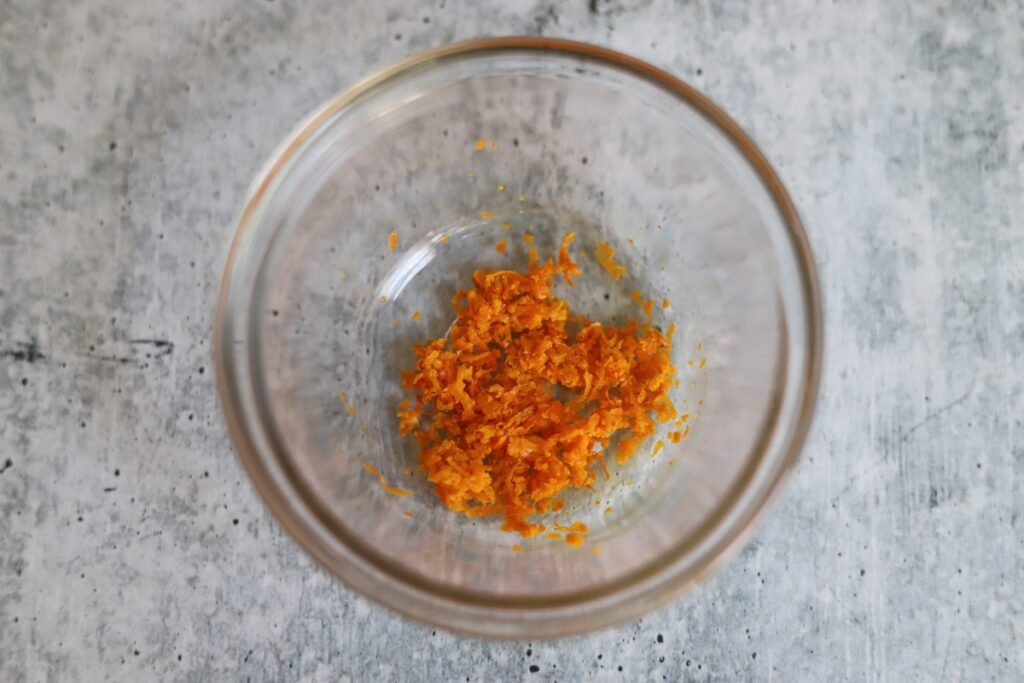 Grate 1 tsp of an orange peel into a bowl to create orange zest.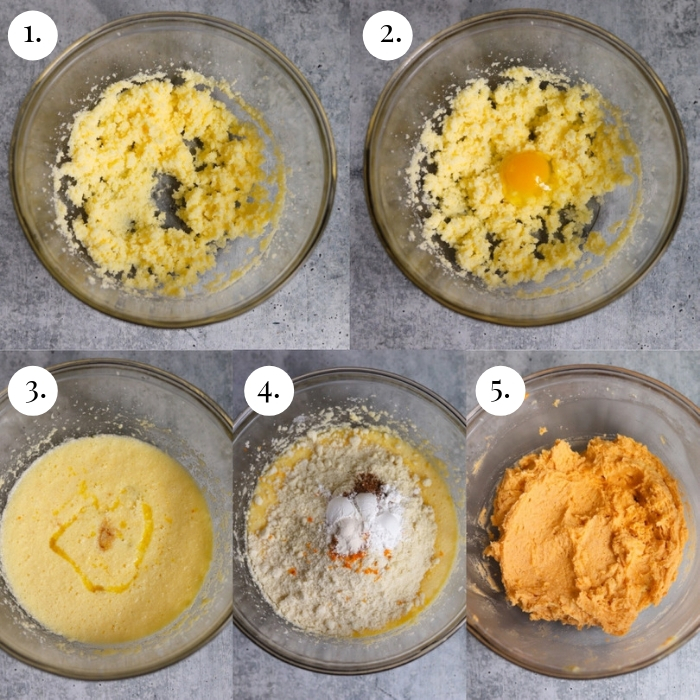 Cream together butter and sweetener.
Mix in eggs one at a time.
Mix in all other wet ingredients.
Blend in all dry ingredients including orange zest.
OPTIONAL: Add in one or two drops of orange food coloring.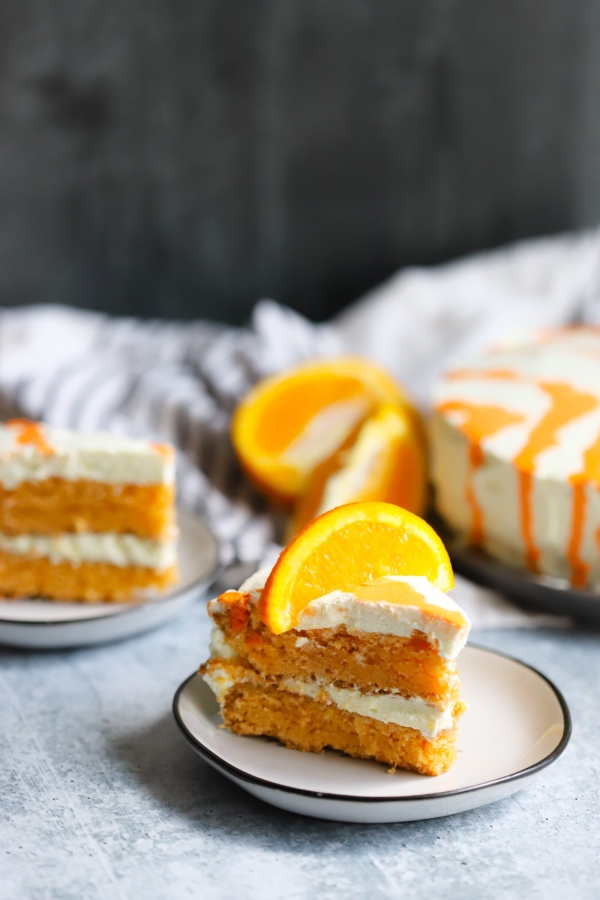 Low Carb Orange Creamsicle Cake Sweetened With Monkfruit
This Low Carb Orange Creamsicle cake, and all of our keto desserts, are sweetened with Lakanto's Monkfruit, which is our absolute favorite sweetener. It is zero glycemic, natural, and carb free, which makes it the perfect sweetener!
Not only is it good for you, but it also tastes great! There is no nasty aftertaste, and of all the keto sweeteners, it truly tastes the best.
If you have never tried Monkfruit, or if you just need to restock, you can purchase some through Lakanto's website. If you use our code, "BUTTERTOGETHER" at checkout, and you will save 20% off of your entire purchase!
This coupon applies to all products on their site as well, and not just Monkfruit. View them HERE.
Nutrition (per slice) About 10 Slices
Calories: 284.5 | Fat: 27.4g | Carbs: 5.31g | Fiber: 3g | Protein: 7.91g | Net Carbs: 2.31g
Click Here To Pin – Sharing Is Caring!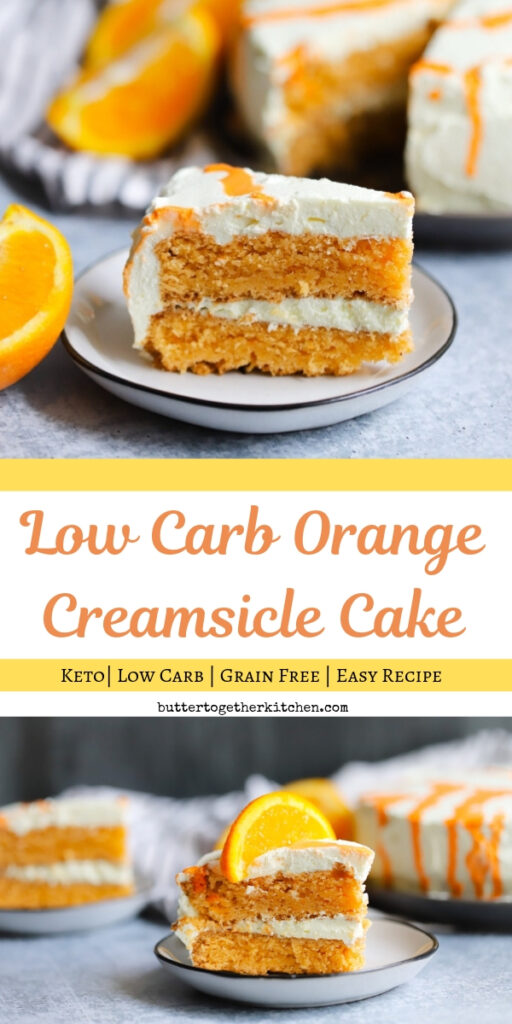 Have you tried this recipe or any other recipe on the blog? Please rate it below and let us know what you think in the comments! We love hearing from you!
You can also share it on instagram and use the hashtag #buttertogetherkitchen and we will feature you on our page.
Enjoy!
More delicious keto recipes? You will love our delicious Keto Mini Cheesecakes, also our completely incredible Low Carb Carrot Cake with Cream Cheese Frosting, and our #1 popular recipe, Keto Cinnamon Pretzels.
If you are a cake lover, like we are, give this Keto Vanilla Cake a try!
Low Carb Orange Creamsicle Cake
This Low Carb Orange Creamsicle Cake is as refreshing and flavorful as your favorite frozen treat! This cake will become your new favorite keto summer treat.
Ingredients
Instructions
Preheat oven to 350 degrees; grease two small 6-inch pans or a loaf pan.
Cream together butter and Lakanto's Monkfruit or desired sweetener.
Blend in one egg at a time.
Add vanilla, olive oil, and juice from orange (or 1 tsp orange extract) and blend well.
Mix in almond flour, orange zest, nutmeg, baking powder, xanthan gum. Add 2-3 drops of orange food coloring, optional.
Pour into pan(s) and bake for 25-30 minutes or until golden around the edges.
For the frosting, we made a whipped cream frosting by whipping some heavy cream, sweetened to taste.
Notes
If using two 6-inch pans, takes about 30-35 mins in the oven
If using a loaf pan or one 9-inch pan, takes about 40-45 mins in the oven
Nutrition Information:
Yield:

About 10 Slices
Serving Size:

1 Slice
Amount Per Serving:
Calories:

284.5
Total Fat:

27.4g
Carbohydrates:

Net Carbs: 2.31g
Fiber:

3g
Protein:

7.91g
Nutritional Disclaimer: We are not certified nutritionists. Nutritional data is provided as a courtesy. The information provided is calculated through a free-web based nutrition calculator and is not guaranteed to be accurate. To ensure we provide you with good information, we look at a variety of calculators.