Some of the links below are affiliate links, meaning, at no additional cost to you, I will earn a comission if you click through and purchase. As an Amazon Associate I earn from qualifying purchases through links in this post. See our Privacy Policy & Terms of Service to learn more.
Oreo Keto Chaffles recipe is everything you love about your favorite cookie! With a crispy chocolate shell and a fluffy, cream filled center, you will be making this keto chaffle over and over again!
Join the best new keto recipe and support Facebook Group HERE!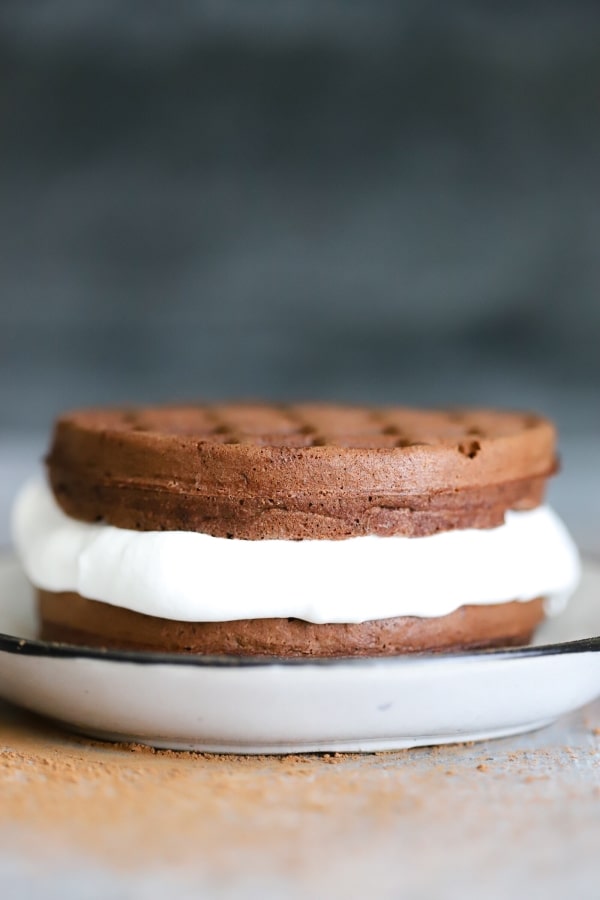 Click HERE To Pin Oreo Keto Chaffles
Oreo Keto Chaffle Dessert Recipe
By now, you have probably heard of the chaffle. It is the latest and greatest keto invention, and for good reason!
Chaffles are usually a combination of cheese and egg, sometimes mixed with other baking agents like baking powder, but this is the bare bones, basic version of the chaffle. To see this version of a chaffle, see our Easy Traditional Keto Chaffle Recipe.
There is so much more you can do with a chaffle than just making it with cheese and egg! There are breakfast chaffles, sandwich chaffles, and even dessert chaffles, like this one! Of course, there are slight variations depending on what kind of keto chaffle you are making.
For example, this chaffle contains no cheese!! So don't worry, you aren't about to get into a chocolatey cheesy mess. Dessert chaffles use heavy cream and other ingredients in place of eggs.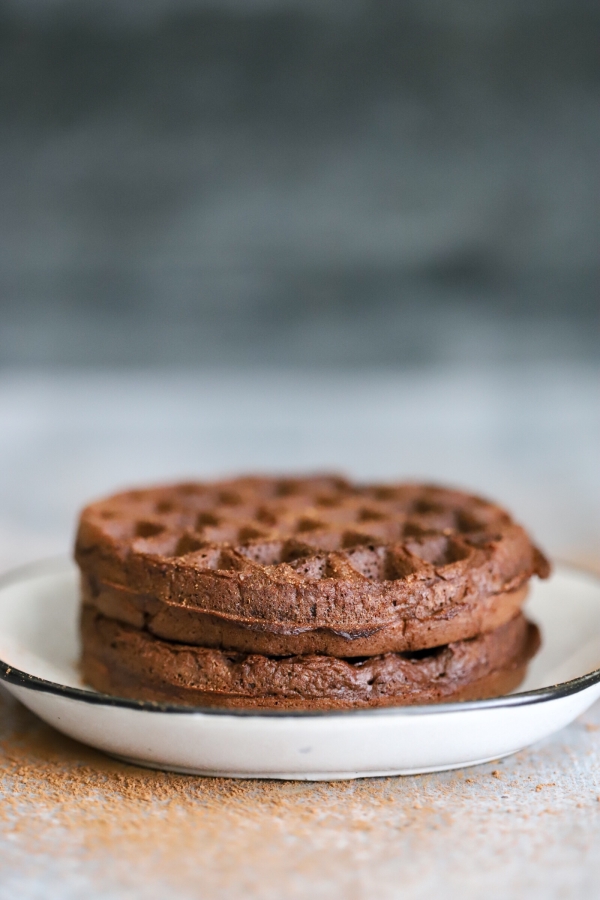 What Is A Chaffle?
As I mentioned earlier, chaffles are the latest keto craze; they have been popping up in every keto Facebook group, and folks are going crazy with a million different variations.
The basic chaffle is made with just two ingredients: egg and cheese, and it is often used as a bread substitute. It's probably called a waffle because, well, it is basically a cheese waffle. But the chaffle has become so much more than that!
The keto chaffle is also rather small, measuring about 4 inches across, and that is because of how it's made! But, more on that in a minute.
With a few basic tweaks, you can have any kind of chaffle your heart desires, like this Keto Oreo Chaffle!
What Mini Waffle Maker To Use: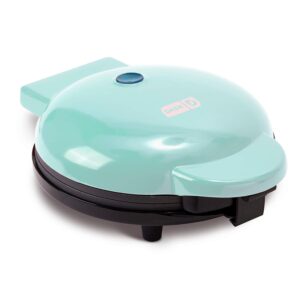 In order to make a perfectly sized keto chaffle, you will need a mini waffle maker. The Dash mini waffle maker seems to be the waffle maker of choice for most, and that is because it works the best and is the easiest to use.
A few great things about this mini waffle maker is that it is small, so it takes up almost no counter space. OR, if you prefer to store it as apposed to leaving it on your counter, you can fit this thing anywhere! Since it's so small, it is super easy to clean!
All of these things are great, but the best thing of all about the mini waffle maker is that it makes the perfect sized chaffle! Since the chaffle is often used as a bread replacement, it wouldn't really make sense to have an 8 inch wide bun!
The mini waffle maker makes the perfect sized chaffle every time. And you just can't beat $10 with free shipping on the DASH Mini!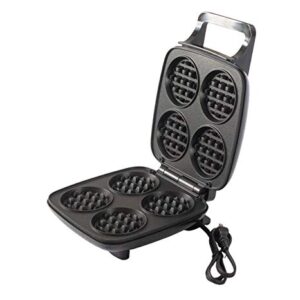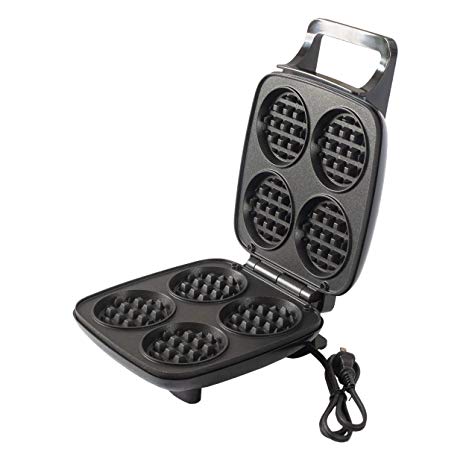 If you have a big family (or just really like chaffles), consider a larger mini waffle maker! The Burgess Brothers ChurWaffle Maker is popular in the keto community, it can make four mini waffles at a time!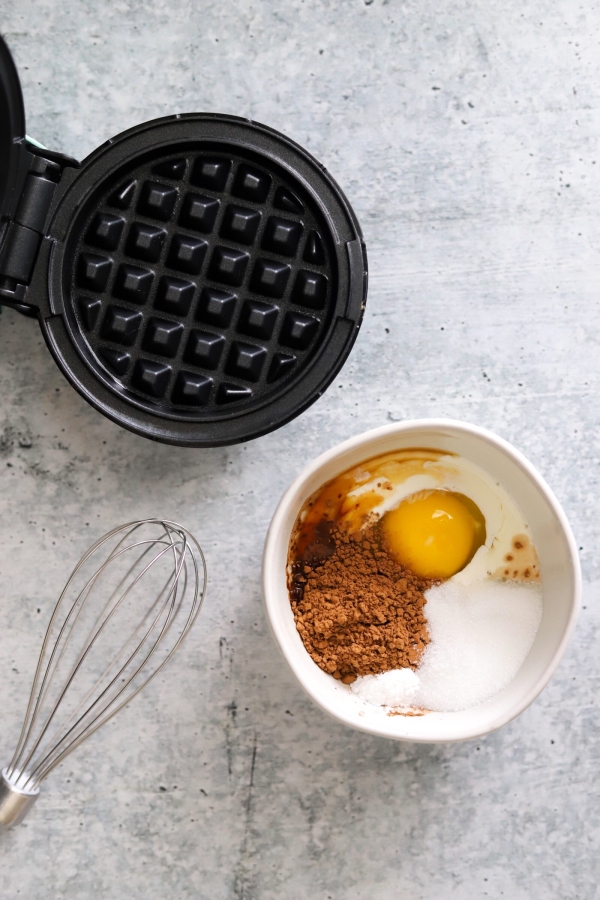 Ingredients Needed For Keto Oreo Chaffle
Like most other keto chaffle recipes, this one is super simple and only uses a few ingredients that you definitely already have!
An egg, some unsweetened cocoa powder, coconut flour, vanilla extract, sweetener, baking powder, and heavy cream are all you will need to whip up this yummy keto oreo chaffle! That means you can get started right away!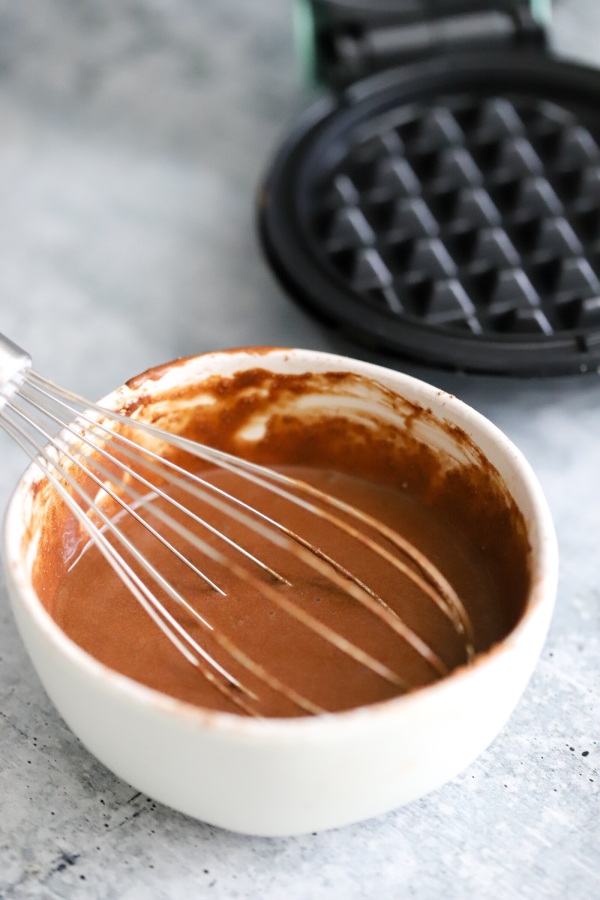 To make this recipe, all you really need to do is whisk together all ingredients in a bowl. Make sure you remember only to use have of the batter at once, since this recipe makes two chaffles!!
If you try to cram all the batter in at once, you will defiantly have a mess to clean up!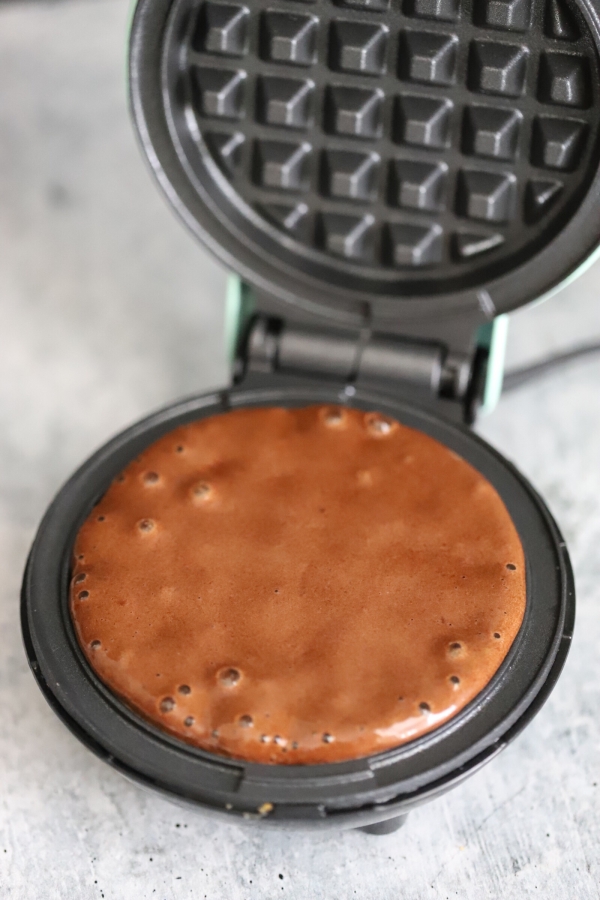 You want to fill your mini waffle maker with just enough of the batter that all of the space is taken up on the inside without any overflow. This might take some practice, but you'll definitely get the hang of it!
Also, remember that the baking powder will cause the waffle to puff up, so your waffle will probably come out bigger than it went in!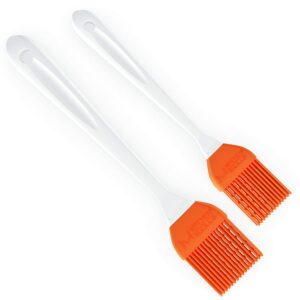 For easy waffle maker clean up, I've found these Silicone Basting brushes to work best! Find them HERE on Amazon!
Oreo Filling Ideas
For the filling for this keto oreo chaffle, we simply whipped some heavy cream and smeared it between the two chaffles. However, there are a ton of other ways you could fill your keto oreo chaffles.
You could consider making:
A buttercream frosting – 2 tbsp butter, 1 tbsp powdered sweetener, 1/4 tsp vanilla
or,
A cream cheese frosting – 2 tbsp cream cheese, 1 tbsp powdered sweetener, 1/4 tsp vanilla
There are limitless possibilities for this recipe!
Variations To This Recipe
Just like the frosting, there are endless ways in which you can customize this recipe.
If you want to change the chaffle itself, consider:
Swap out coconut flour for almond flour. Coconut flour does not have a 1:1 ratio to almond flour though, so be careful! Generally, 1 part coconut flour is equal to about 3 parts almond flour.
Use Lakanto Powdered Sweetener instead of classic granular sweetener. This will make your chaffle just a bit sweeter. Use our discount code "BUTTERTOGETHER" for 20% of your entire purchase HERE. We love using Lakanto sweeteners because they are seriously the best tasting and no aftertaste or cooling effect!
Add a teaspoon of cream cheese to the batter to make it thicker and richer!
Click HERE To Pin Oreo Keto Chaffle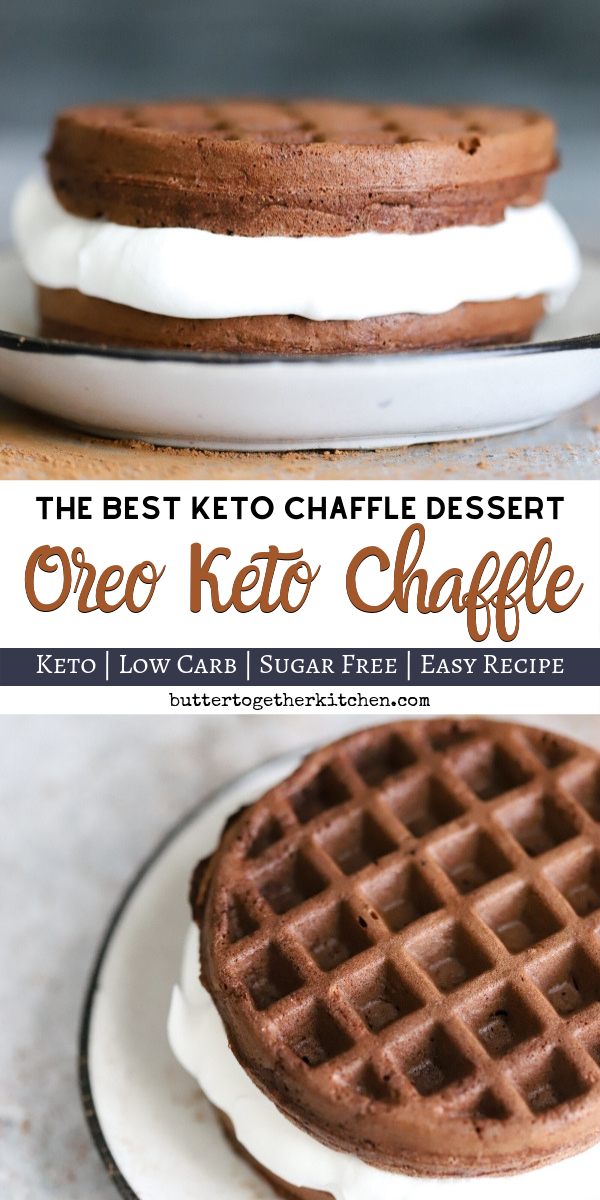 Have you tried this recipe or any other recipe on the blog? Please rate it below and let us know what you think in the comments! We love hearing from you!
You can also share it on instagram and use the hashtag #buttertogetherkitchen and we will feature you on our page.
Enjoy!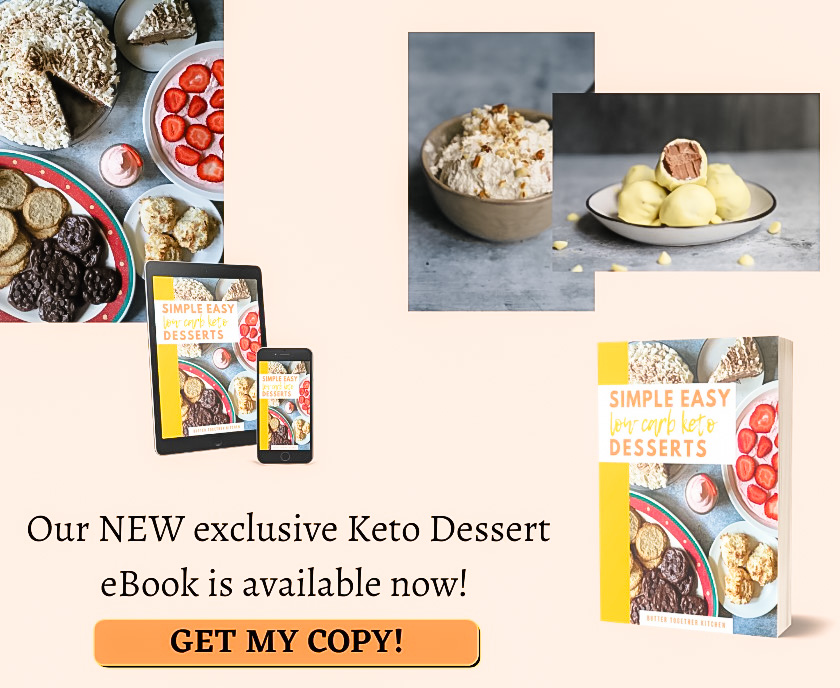 More Chaffle Recipes To Enjoy: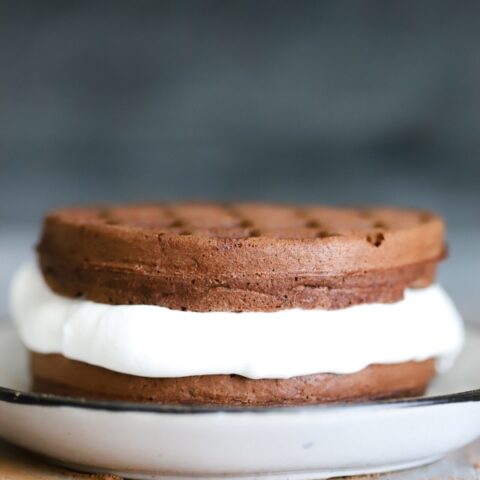 Best Oreo Keto Chaffles
Oreo Keto Chaffles recipe is everything you love about your favorite cookie! With a crispy chocolate shell and a fluffy, cream filled center, you will be making this keto chaffle over and over again!
Ingredients
Chocolate Chaffle
1 Egg
1 1/2 tbsp Unsweetened Cocoa
1 tbsp Heavy Cream
1 tsp Coconut Flour
1/2 tsp Baking Powder
1/2 tsp Vanilla
Filling
Whipped Cream (alternate frosting recipe in notes below)
Instructions
Preheat mini waffle maker.
In a smal bowl, combine all chaffle ingredients.
Pour half of the chaffle mixture into the center of the waffle iron. Allow to cook for 3-5 minutres.
Carefully remove and repeat for second chaffle. Allow chaffles to sit for a few minutes so that they crisp up.
For filling, we like it simple and just went for whipped cream. See notes below for alterate filling.
Notes
We preffered a simple feeling for this and simply used whipped cream. However if you'd like a cream cheese filling, use: 1 tbsp Lakanto Powdered Sweetener, 2 tbsp cream cheese (softened), and 1/4 tsp vanilla. Combine all ingredients and spread frosting once chaffle is cooled to room temperature.
Recommended Products
As an Amazon Associate and member of other affiliate programs, I earn from qualifying purchases.
Nutrition Information:
Yield:

2 Chaffles
Serving Size:

1 Chaffle
Amount Per Serving:
Calories:

66.5
Total Fat:

4.5g
Carbohydrates:

3g
Net Carbohydrates:

1.25g
Fiber:

1.75g
Protein:

7.2g
Nutritional Disclaimer: We are not certified nutritionists. Nutritional data is provided as a courtesy. The information provided is calculated through a free-web based nutrition calculator and is not guaranteed to be accurate. To ensure we provide you with good information, we look at a variety of calculators.