Some of the links below are affiliate links, meaning, at no additional cost to you, I will earn a comission if you click through and purchase. As an Amazon Associate I earn from qualifying purchases through links in this post. See our Privacy Policy & Terms of Service to learn more.
The Keto Chaffle is the latest and greatest invention in the keto world. This Easy Traditional Keto Chaffle Recipe is a great bread replacement that works perfectly to make savory sandwiches or sweet treats.
Join the best new keto recipe and support Facebook Group HERE!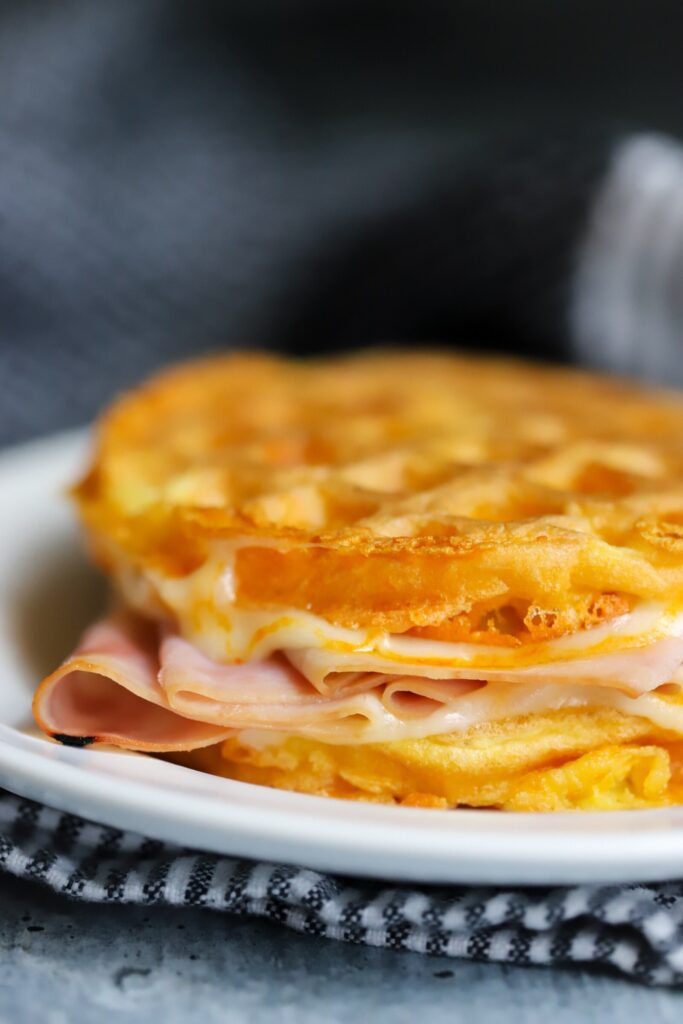 Click HERE To Pin Keto Chaffle Recipe
Traditional Keto Chaffle Recipe
I must admit, I did not invent the chaffle, and to be honest, I'm really not sure who did.
However, the keto chaffle seems to have appeared overnight on every single keto Facebook group out there and taken the keto world by storm. Everyone and their brother is making the chaffle and coming up with all kinds of crazy delicious variations.
While we do have some cool variations in the works, we wanted to start by introducing you to the original base chaffle. After you try the traditional chaffle, try the White Bread Keto Chaffle | Wonder Bread Chaffle!
Just like I'm not sure who invented the chaffle, I'm also not 100% certain of where the name came from. The two leading theories are these:
it is a combination of the words "cheese waffle" (which makes sense, especially when you see how it's made), or, it is a combination of the words, "chicken and waffles," which also makes sense because chicken and waffles has become highly popular lately.
Even though there is a bit of mystery surrounding this recipe, the fact that is an awesome bread replacement is no mystery!
Use A Mini Waffle Maker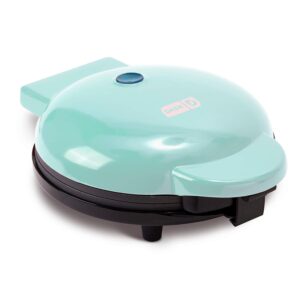 At first, a mini waffle maker seemed like a waste of money. After all, how many times have you ever thought to yourself, "I could really go for a mini waffle"? Probably never.
But, for this recipe, a mini waffle maker is key! Since the waffle will act as a "bun" of sorts, you need waffles that resemble the size of a bun. The only way to get that is with a mini waffle maker, which creates waffles that are about 4 inches wide.
Since the chaffle has become so popular, it is getting increasingly difficult to find mini waffle makers in a local store, so we recommend looking at Amazon. Of all the mini waffle makers, we recommend the DASH Mini Waffle Maker. You can't beat $10!!
If you have a big family (or just really like chaffles), consider a larger mini waffle maker! The Burgess Brothers ChurWaffle Maker is popular in the keto community, it can make four mini waffles at a time!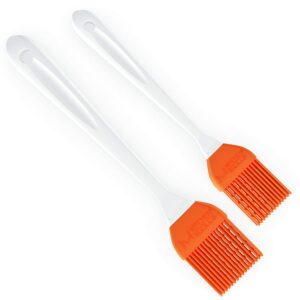 For easy waffle maker clean up, I've found these Silicone Basting brushes to work best! Find them HERE on Amazon!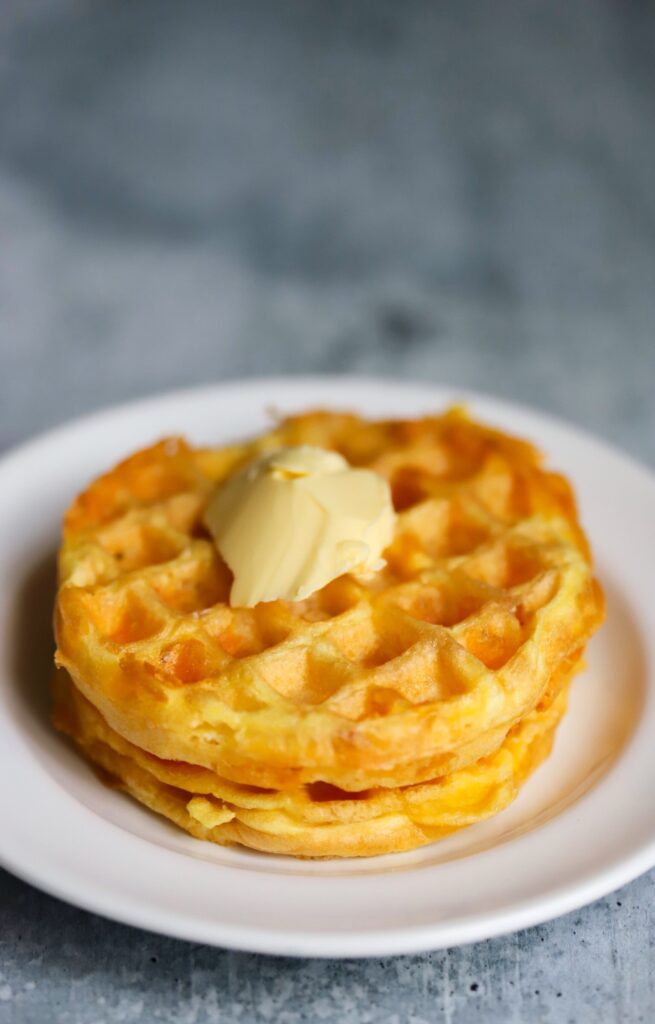 What Is a Chaffle?
So, by now you are probably asking yourself, "what in the world is a chaffle?!" Fair question.
A chaffle is fairly simple. It is made of only two ingredients: Cheese and eggs. It is a cheese and egg waffle. At first, that might not sound too great, but trust me, it is really good!
As I mentioned, everyone in every keto Facebook group is making their own chaffle so of course there is some variation. Some are adding baking powder to get their chaffle to become a little fluffier, while others are simply adding things like bacon to make it tastier. You really can't go wrong.
If eggs and cheese grilled in the shape of a waffle isn't your thing, don't worry, you can make it your thing by adding whatever you desire to the mix.
The Texture of Your Chaffle
It takes four minutes for your chaffle to cook in a mini waffle maker. At first, it will feel soft and not very crispy, but fear not!
Once you take your chaffle out of the waffle maker and let it rest for a minute or two, it will begin to crisp up and will give you a bit of crunch!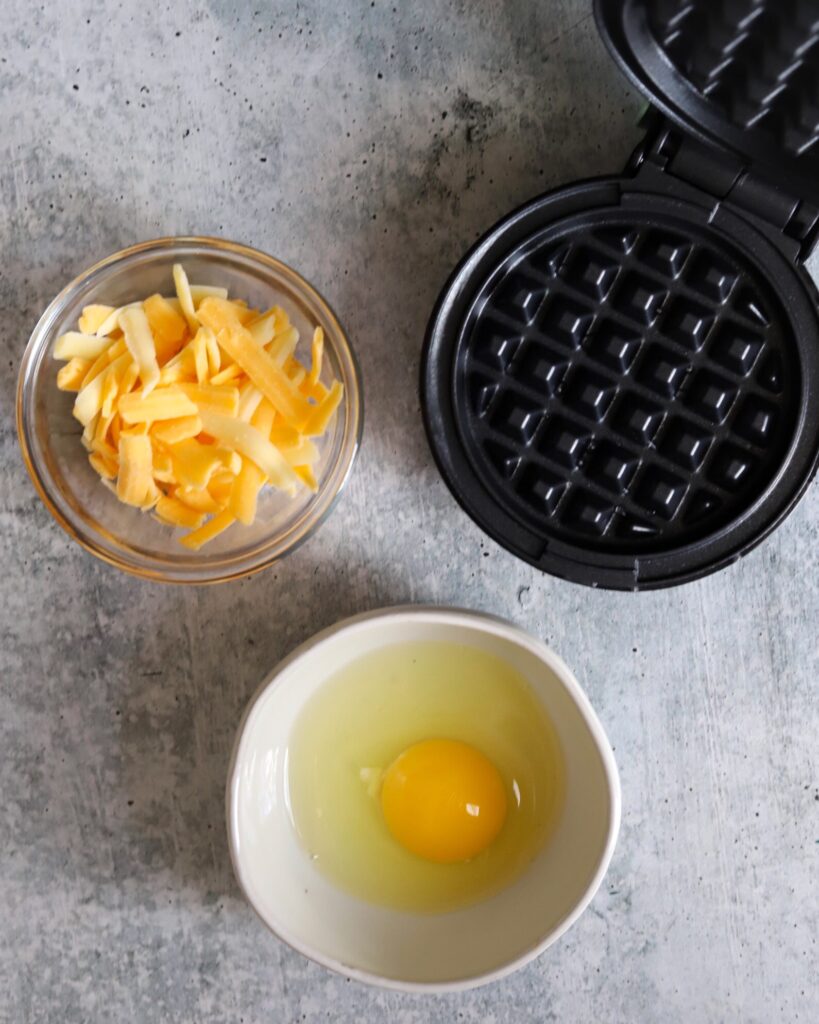 How To Make A Traditional Keto Chaffle
A chaffle is about the easiest thing you can make on keto.
Start by preheating your mini waffle maker for a few minutes so that it gets nice and hot. You definitely don't make the mistake of adding the batter before it's fully warm, or you'll end up with a sticky, burned mess that doesn't look like a waffle.
Another thing to note is that this recipe makes two chaffles! If you try to stuff all of the batter in at once, you will end up with a huge mess! Do your best to make sure that you are able to split the batter 50/50.
Other than that though, if you've ever stayed at a hotel that has a "make-your-own-waffle" station for breakfast, you are qualified to make this recipe!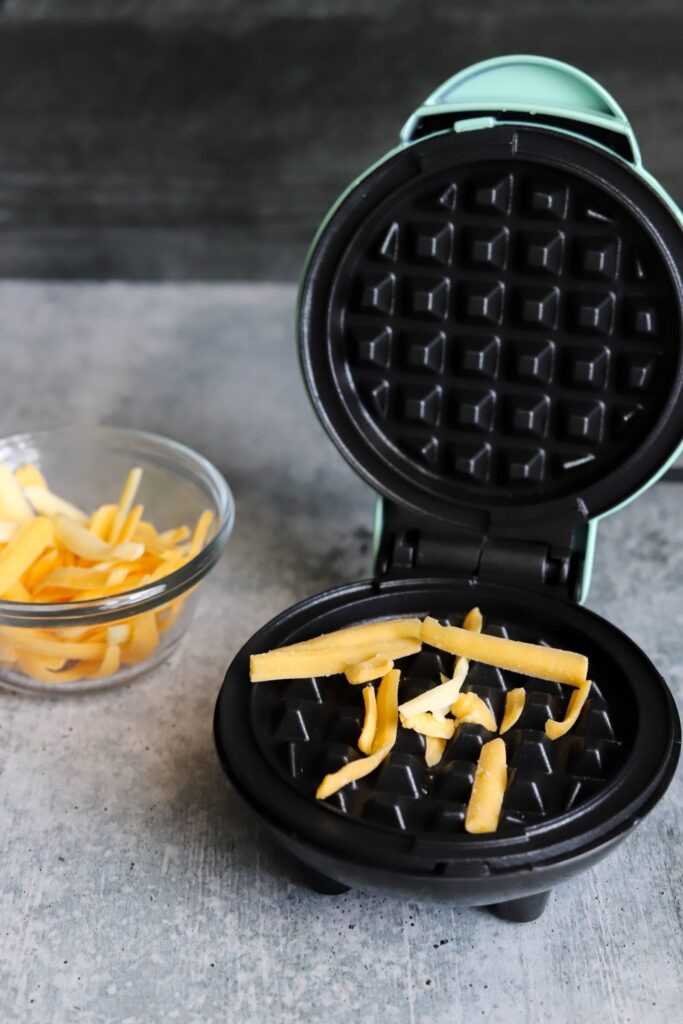 How To Make A Crispier Keto Chaffle
While your chaffle will be crispy after it cools, if you like yours a little on the crispier side, you can opt to leave it in for another minute or so, or you could do this:
Add a little bit of cheese to the waffle maker before you pour in the batter, and then add some on top after you pour in the batter. Of course, this bit of cheese will be on the heat for longer making it more crispy.
Or,
warm your sandwich in the waffle maker! Now, if you aren't making a sandwich with your chaffle, this won't apply to you, but if you plan on making a melty ham and cheese (like we did), make your sandwich and warm it in the waffle maker so that your chaffle gets crispy and your cheese gets melty!
This traditional chaffle recipe is best for sandwiches, burgers, hot dogs, and even tacos!
Best Tips For Keto Chaffle
Even though the chaffle is amazing as is, there are a few ways that you might be able to make it even better!
If you think that your chaffle tastes too eggy, try using two egg whites instead of one whole egg. This seems to get rid of the eggyness.
Don't peek! I know it tempting to want to see whats going on inside your waffle maker, but if you open and close the maker while your chaffle is cooking, it will tear apart and be a huge mess! Just trust the process.
As I mentioned earlier, if you want your chaffle to be a little fluffier and have more texture, consider adding 1 teaspoon of baking powder to your batter, or 1 table spoon of almond flour. This will make your chaffle more bready.
If you have a family (or just love chaffles), consider getting a mini waffle maker that can make FOUR waffles at a time! Save yourself some time and hassle and make all the chaffles you need all at once.
Most important of all, don't be afraid to experiment with your chaffle! There are tons of ways you can customize your chaffle, like by adding different kinds of cheeses, adding cocoa powder, or whatever else you can come up with! Don't be afraid to try them all.
Other Chaffle Recipes:
Nutrition (per chaffle) Makes 2 Chaffles
Calories: 150 | Fat: 12g | Carbs: 1g | Fiber: 0g | Protein: 9g | Net Carbs: 1g
Click HERE To Pin Keto Chaffle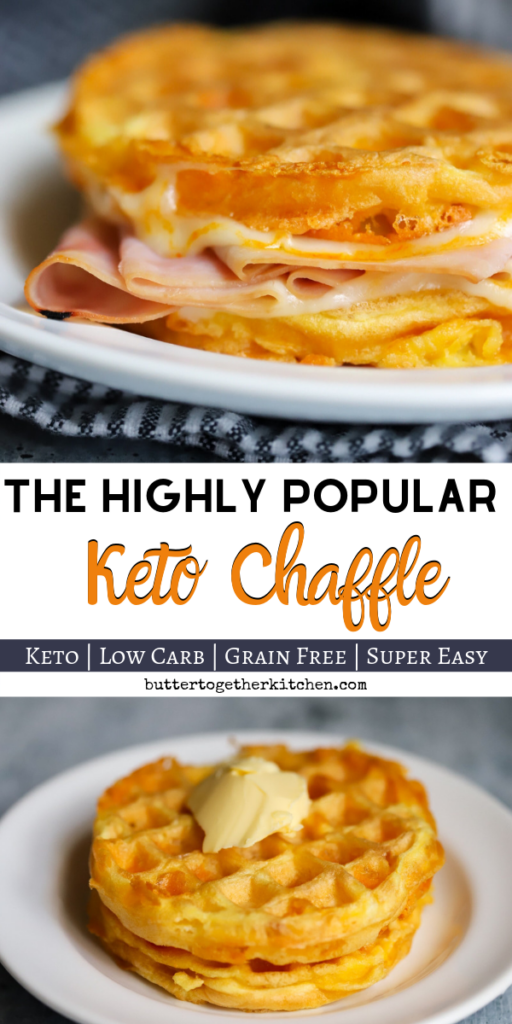 Have you tried this recipe or any other recipe on the blog? Please rate it below and let us know what you think in the comments! We love hearing from you!
You can also share it on instagram and use the hashtag #buttertogetherkitchen and we will feature you on our page.
Enjoy!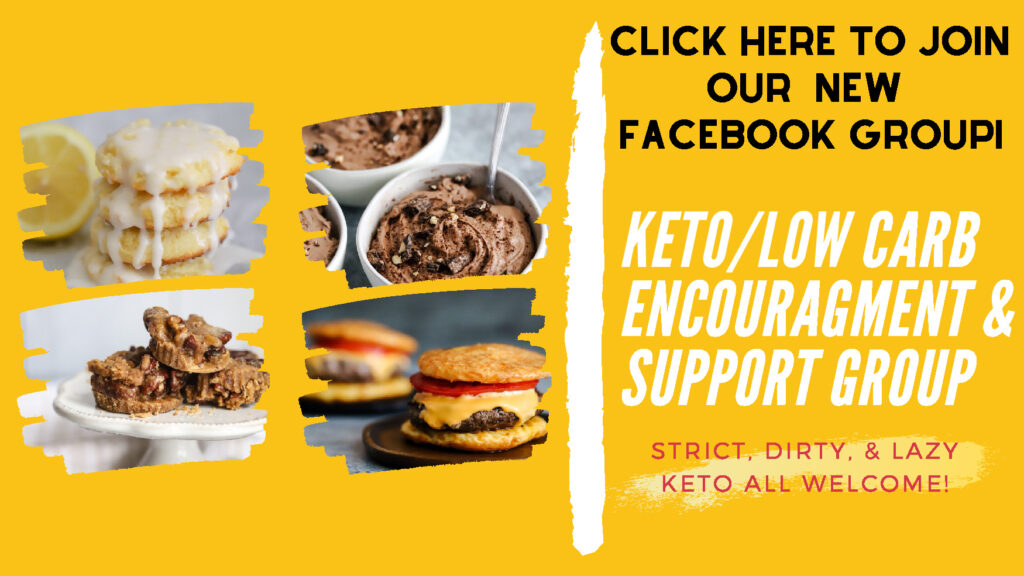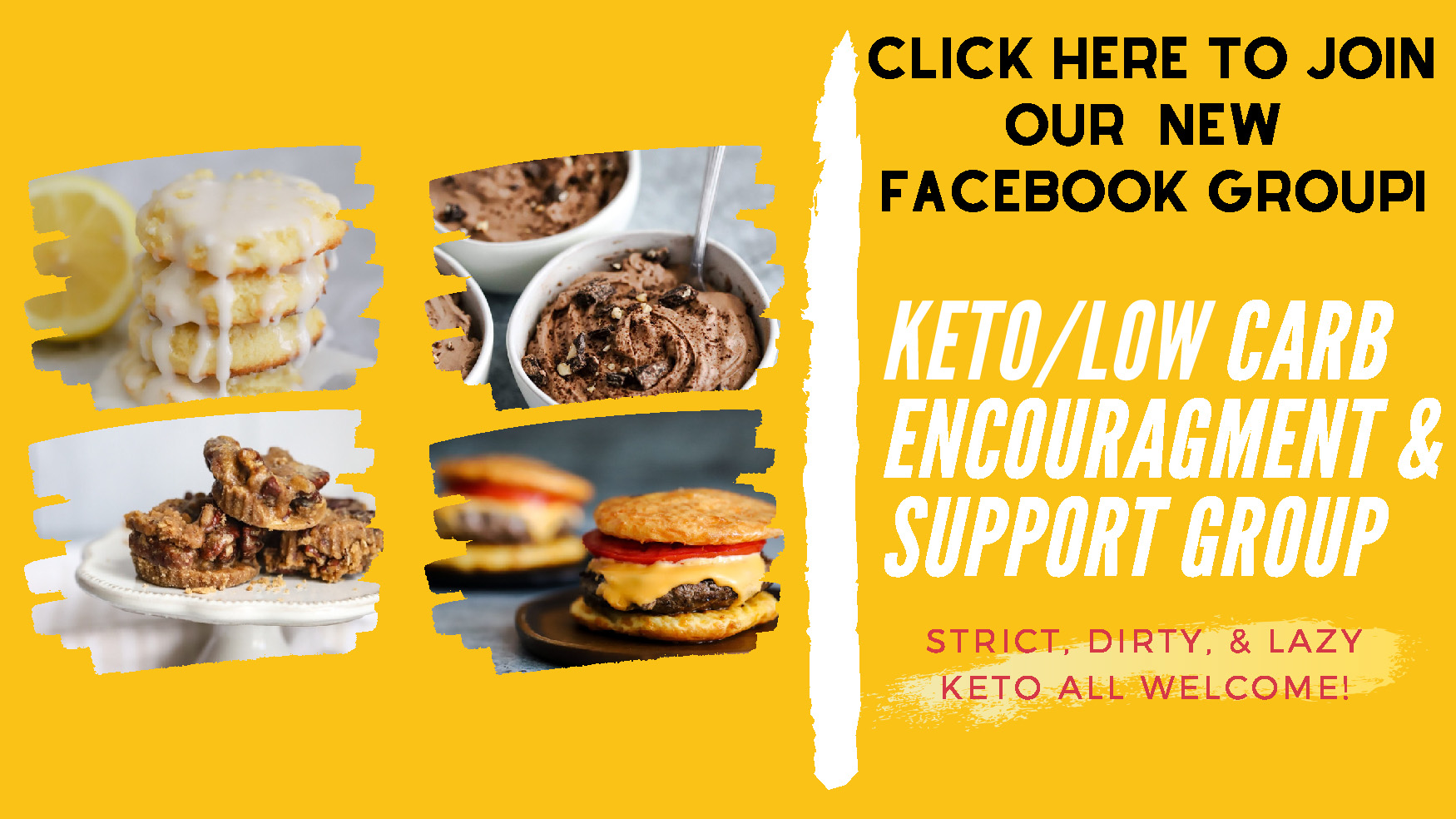 SOME OTHER RECIPES YOU MIGHT ENJOY:
Best Keto Buns for Hot Dogs, Hamburgers, and Sandwiches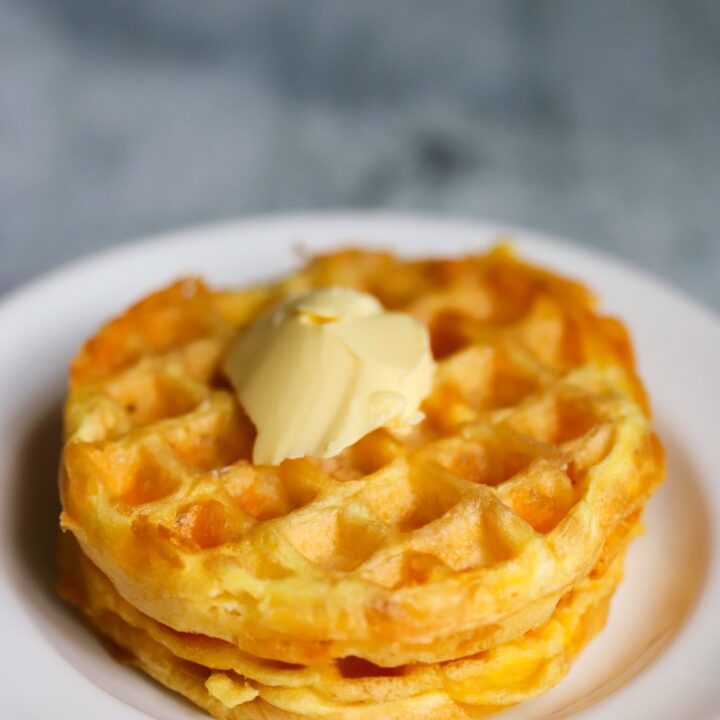 Easy Traditional Keto Chaffle Recipe
The Keto Chaffle is the latest and greatest invention in the keto world. This Easy Traditional Keto Chaffle Recipe is a great bread replacement that works perfectly to make savory sandwiches or sweet treats.
Ingredients
1 Egg
1/2 cup Shredded Cheddar Cheese
Instructions
Preheat mini waffle maker.
In a bowl, whisk the egg until beaten.
Add shredded cheese and stir to combine.
When the waffle maker is heated, carefully pour 1/2 of the batter in the waffle maker and close the top. Allow to cook for 3-5 minutes.
Carefully remove from the waffle maker and set aside for 2-3 minutes to crisp up.
Repeat instructions again for the second chaffle.
Notes
You can store in the firdge for 3-5 days.
Try recipe with different cheese.
Recommended Products
As an Amazon Associate and member of other affiliate programs, I earn from qualifying purchases.
Nutrition Information:
Yield:

2 Chaffles
Serving Size:

1 Chaffle
Amount Per Serving:
Calories:

150
Total Fat:

12g
Carbohydrates:

1g
Net Carbohydrates:

1g
Fiber:

0g
Protein:

9g
Nutritional Disclaimer: We are not certified nutritionists. Nutritional data is provided as a courtesy. The information provided is calculated through a free-web based nutrition calculator and is not guaranteed to be accurate. To ensure we provide you with good information, we look at a variety of calculators.