Some of the links below are affiliate links, meaning, at no additional cost to you, I will earn a comission if you click through and purchase. As an Amazon Associate I earn from qualifying purchases through links in this post. See our Privacy Policy & Terms of Service to learn more.
---
Pumpkin pie is the ultimate Fall treat, and this Easy Keto Pumpkin Pie will be your new favorite! This keto pumpkin pie has a crispy crust and a silky smooth and sweet filling.
Join the best new keto recipe and support Facebook Group HERE!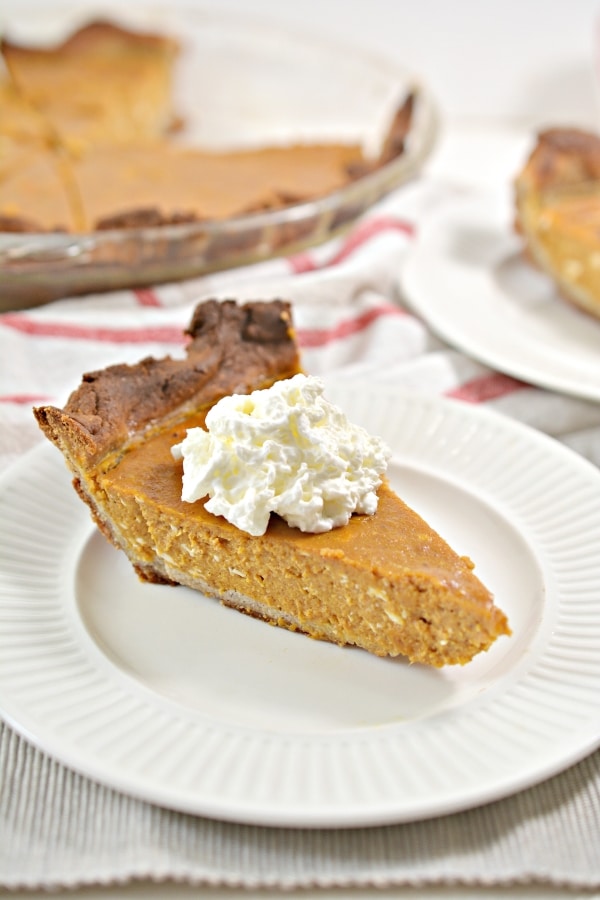 Click HERE To Pin Keto Pumpkin Pie
Keto Pumpkin Pie
In the world of pies, there is one who rules supreme, and that is pumpkin. In my book, pumpkin pie is the undisputed champion of pies, and therefore, the undisputed champion of Fall desserts.
Pumpkin pie has always been my favorite pie, and since it is usually only available in the fall months, it makes me appreciate the Fall that much more. If you're a pumpkin pie lover like me, you are sure to love this keto pumpkin pie.
This easy keto pumpkin pie tastes silky smooth and sweet just like the pumpkin pie you know and love, just without all of the sugar you may be trying to avoid.
If you've ever made a pumpkin pie before, you probably already know how to make this pie as the process is pretty much the same! All you'll need are a few simple ingredients, a bit of time, and an appetite for keto pumpkin pie and you'll be set!
Keto Friendly Fall Desserts
While pumpkin pie may be my favorite fall dessert, it is definitely not the only fall dessert I love! There are plenty of keto friendly fall desserts to choose from, and some of the best can be found right here on this site.
Sticking with pumpkin, fall's favorite flavor, our Keto Pumpkin Snickerdoodle Cookies are a must try! If you love the warmth and flavor of snickerdoodles AND the amazing taste of pumpkin, you will absolutely love these cookies!
Next, if you're looking for a fall treat to help keep you cool (which is always helpful when experiencing a Florida "Fall"), try our Keto Pumpkin Cheesecake Shake. This shake is smooth, creamy, and best of all, full of delicious pumpkin flavor!
Moving beyond the realm of pumpkin flavors, another great fall dessert you must try is our Low Carb Apple Crisp. I should mention right away that this recipe is more low carb than keto, though it can be worked in to a keto diet if you consume only a small portion.
Our low carb apple crisp is really just a dutch apple pie with maybe a few small differences. Though pumpkin pie is my absolute favorite, dutch apple pie is a very close second!
There are all kinds of amazing fall treats that you MUST try so I could go on and on, but I'll spare you. Instead, just check out all of our yummy desserts HERE.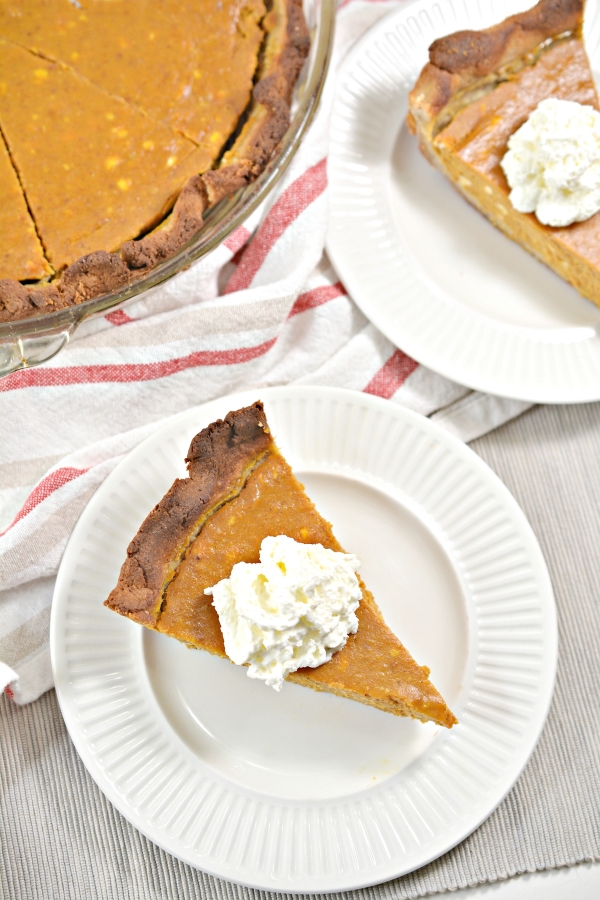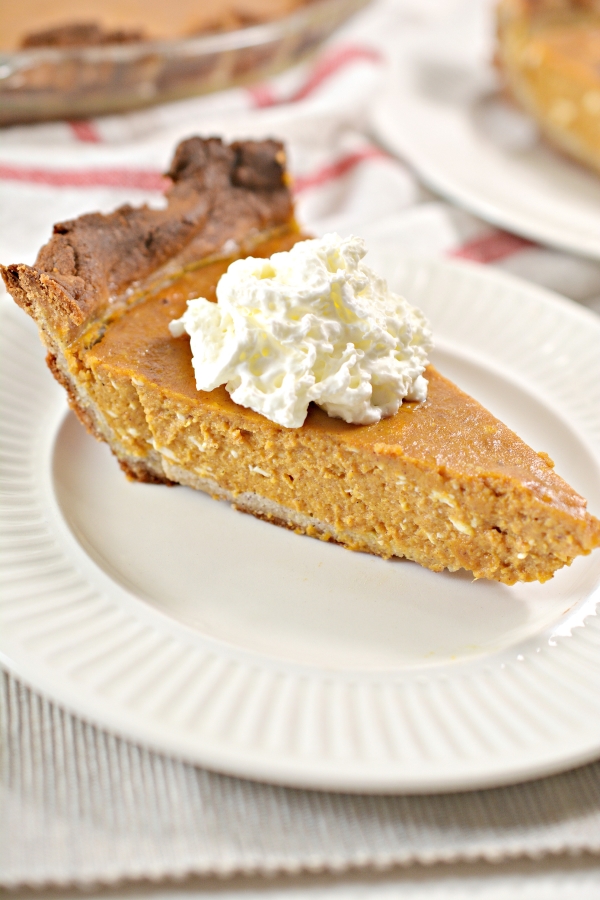 Tips For Making The Best Keto Pumpkin Pie
Make sure that you place your dough in the freezer for 30 minutes before rolling and forming the crust. This will ensure that your dough is more manageable as you prepare the crust.
Opt for higher quality or fresh spices. Freshly ground nutmeg is always the standard when making pumpkin pie, but I know it is not always possible to find fresh spices. Use what you have and don't stress about having the "perfect" ingredients, but if possible, I would always go with the freshest spices.
Given the ingredients in the crust, it is bound to be a bit crispy, but be sure not to over bake your crust! A burn crust is less than desirable when making a pumpkin pie. Be sure to keep an eye on your crust as it bakes, and don't be afraid to remove it from the oven a few minutes early if necessary.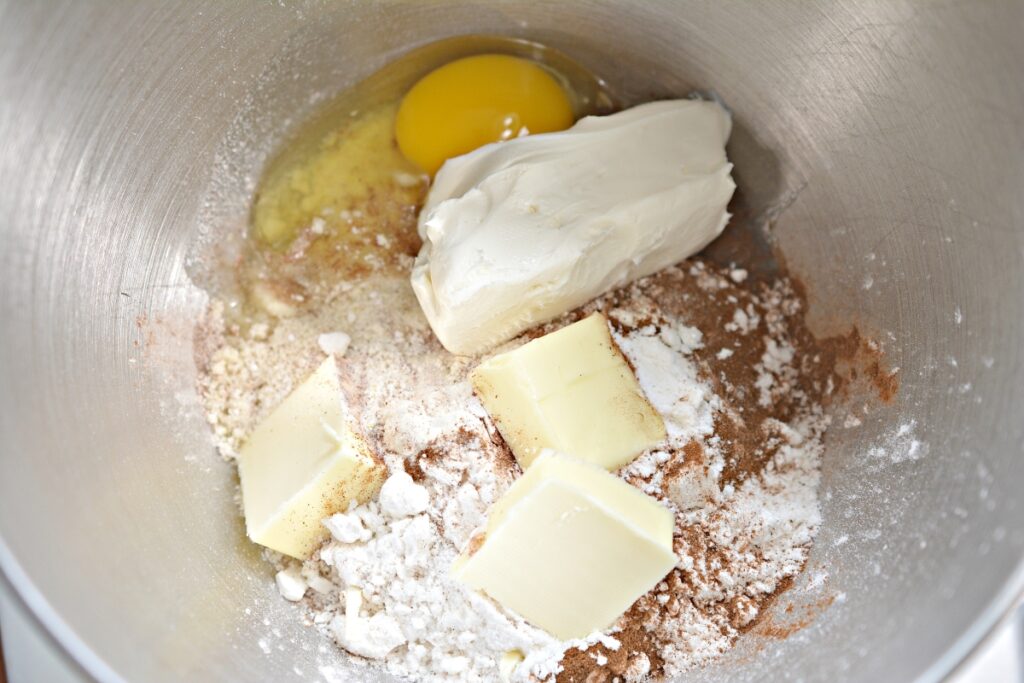 How To Make Keto Pumpkin Pie
(scroll down to recipe card for full list of ingredients + instructions)
In order to make this pumpkin pie, you'll start by blending together all of your crust ingredients. In a large bowl, blend all of your ingredients together on high.
After your ingredients are blended, place your dough in the freezer for 30 minutes. This will ensure that your dough is easy to spread and is easily managed when forming your crust.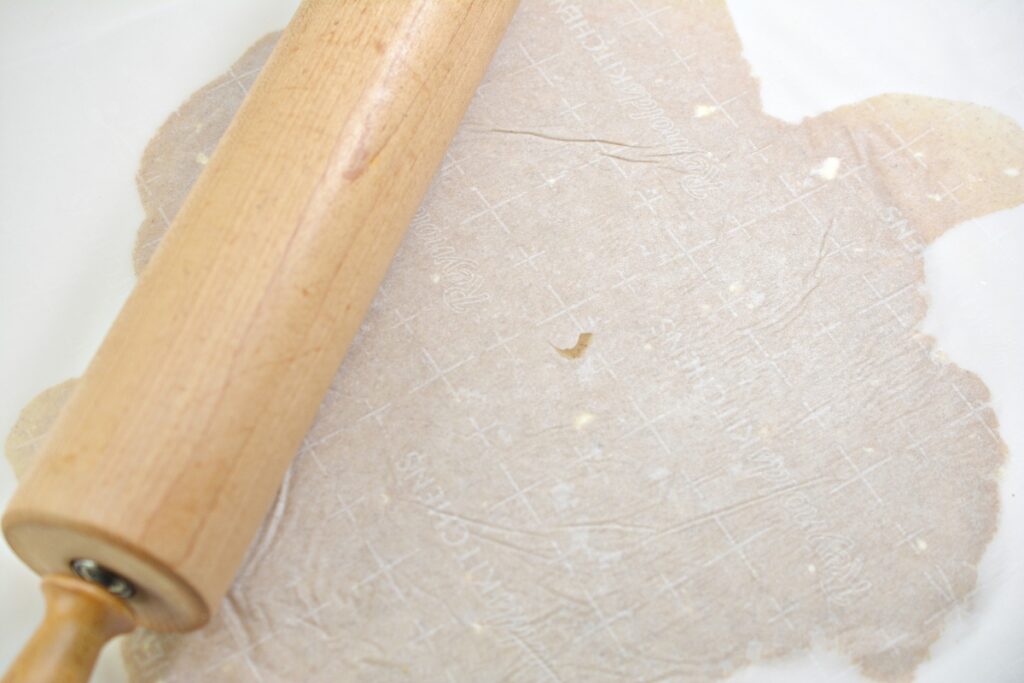 Remove your dough from the freezer and place it between two sheets of parchment paper. Roll your dough out until you reach your desired thickness. Of course, a thinner crust will be crispier and a thicker crust will be a bit chewier.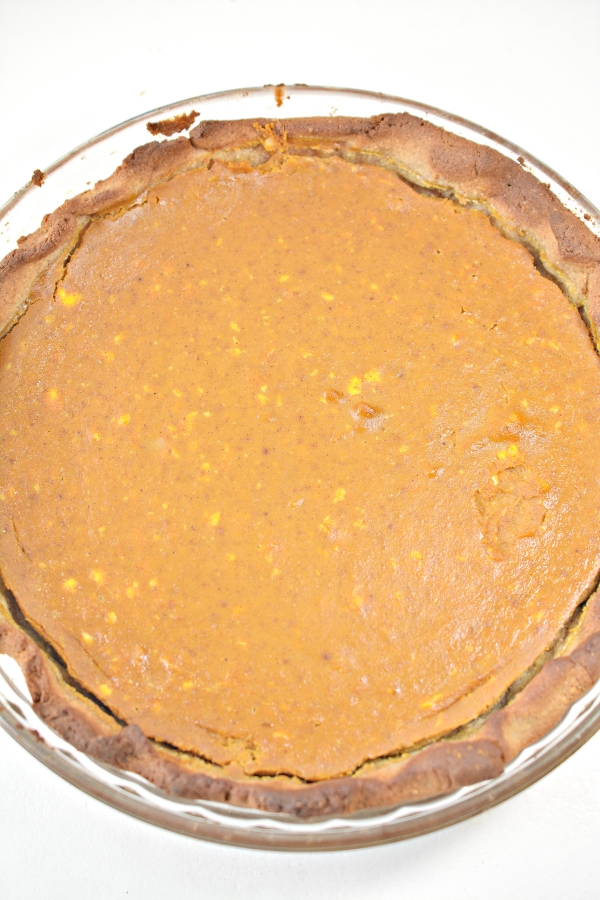 Pre-bake your crust at 350 degrees Farenheit for about 8-10 minutes, and then pour in the pumpkin pie filling.
Your pumpkin pie filling is very simple to make. All you will need to do is combine all of the pie filling ingredients and mix until desired smoothness.
Bake your pie for another 40-45 minutes and enjoy!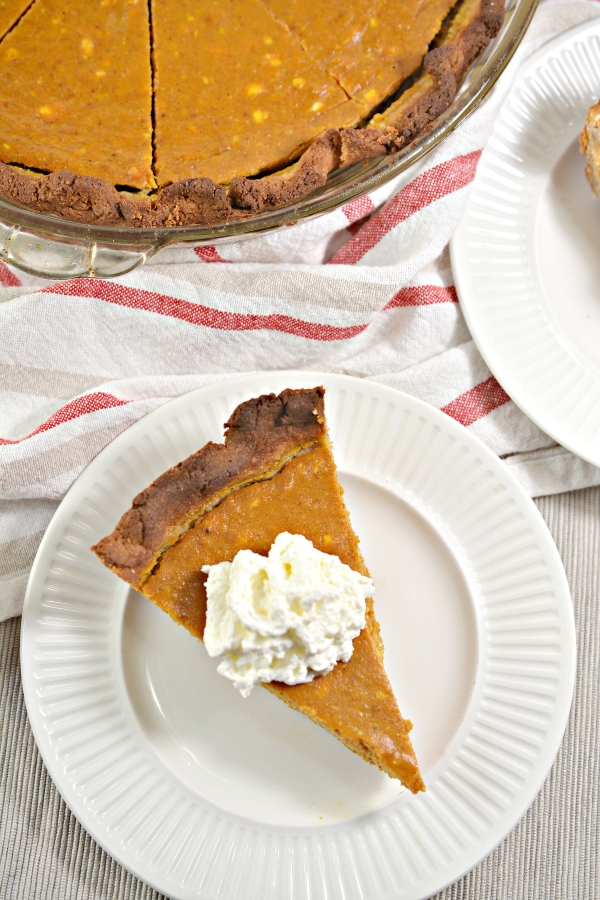 Best Keto Sweetener To Use
As always, we highly recommend using Lakanto's Monkfruit. We recommend this sweetener for all of our sweet recipes because it is simply the best.
Monkfruit is very glycemic, meaning it won't raise your blood sugar. It is completely natural. It has a 1:1 ratio to sugar. And, most importantly of all, it tastes amazing! It does not leave any nasty aftertaste in your mouth, and it does not give you any sort of cooling affect.
Shop Lakanto's website and use our code "BUTTERTOGETHER" at checkout to receive 20% off your entire purchase! This includes Lakanto's classic monkfruit, their confectioners monkfruit, and all of their other amazing products!
Click HERE To Pin Keto Pumpkin Pie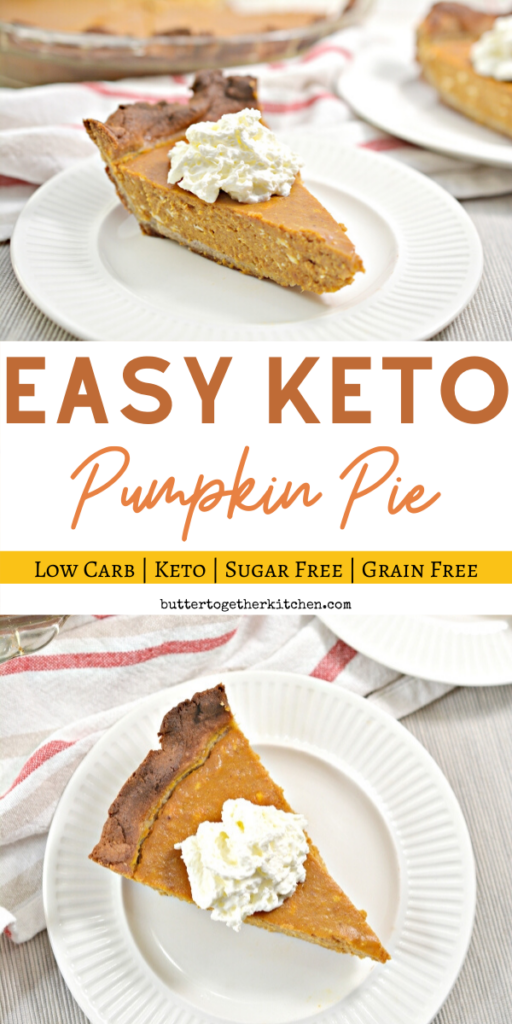 Have you tried this recipe or any other recipe on the blog? Please rate it below and let us know what you think in the comments! We love hearing from you!
You can also share it on instagram and use the hashtag #buttertogetherkitchen and we will feature you on our page.
Enjoy!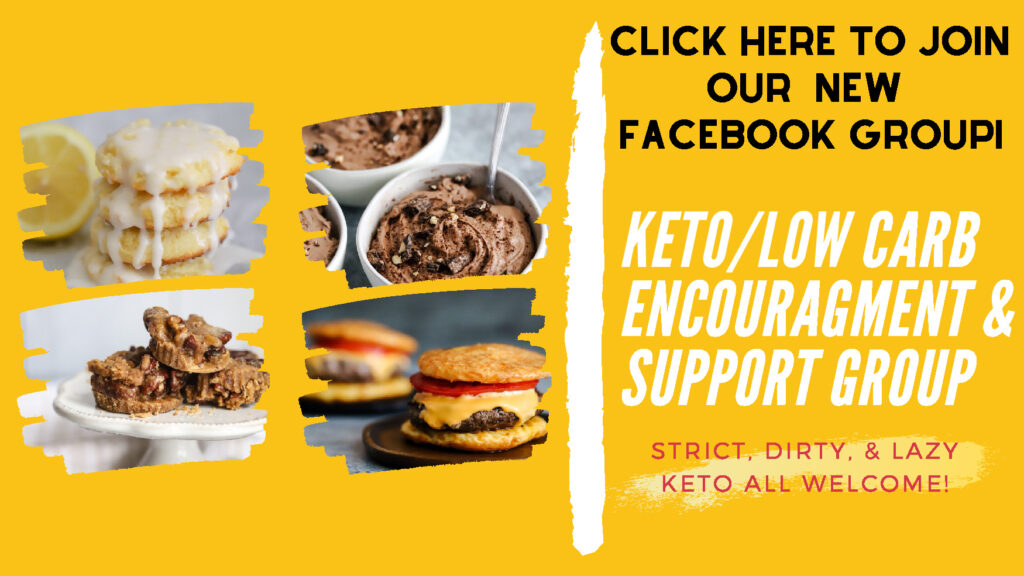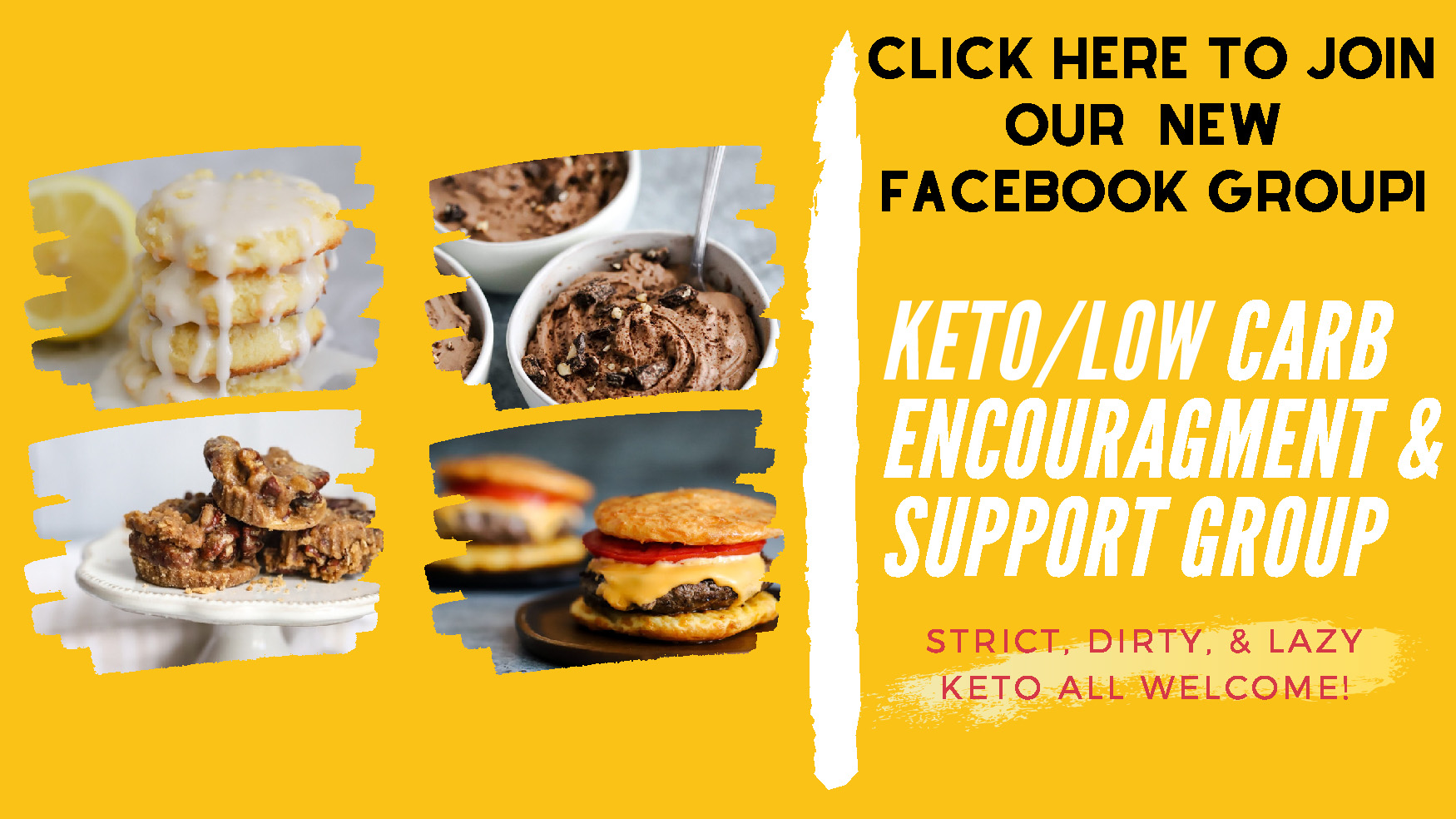 Some Other Keto Recipes You Might Enjoy: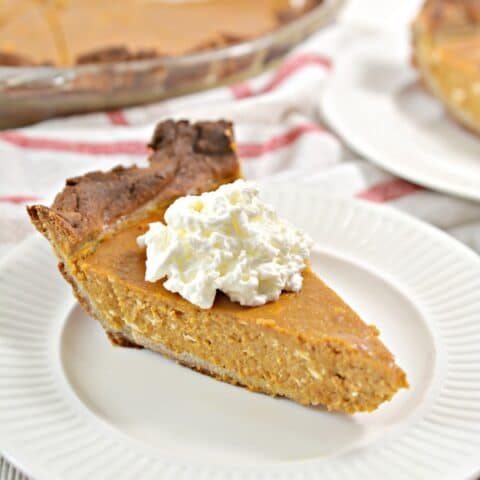 Easy Keto Pumpkin Pie
Total Time:
1 hour
10 minutes
Pumpkin pie is the ultimate Fall treat, and this Easy Keto Pumpkin Pie will be your new favorite! This keto pumpkin pie has a crispy crust and a silky smooth and sweet filling.
Ingredients
For Crust
1 3/4 cup Almond Flour
1/2 tsp Xanthan Gum
1 Egg
3 oz Cream Cheese, cold
3 tbsp Butter, Cold
Pie Filling
1 can Pumpkin Puree, 15oz
2oz Cream Cheese
1/2 cup Heavy Whipping Cream
2 tsp Vanilla Extract
3 tsp Pumpkin Pie Spice
2 Eggs, Room Temperature
Instructions
In a mixing bowl, combine the ingredients for the crust, and blend on high until they are just combined. Do not overmix the dough ingredients for the crust.
Place the dough into the freezer to chill for 30 minutes.
Roll the chilled dough out between two pieces of parchment paper, and then line a well greased pie pan with it, crimping the crust along the top as you go.
Make holes in the bottom of the pie crust with the tines of a fork to help eliminate bubbles during baking.
Pre-bake the crust at 350F for 8-10 minutes until the crust edges are browned a bit.
Combine the ingredients for the filling in a food processor or mixing bowl, and blend on high until well combined and smooth.
Place the filling into the pre-baked crust in the pie pan.
Cover the crust of the pie with aluminum foil along the edges to keep it from getting too brown during the baking process.
Bake for 40-45 minutes at 350 until the filling is cooked through.
Let the pie cool naturally to room temperature and serve, or place it into the fridge to chill before serving.

Nutrition Information:
Yield:

10 Servings
Serving Size:

1 Slice
Amount Per Serving:
Calories:

229
Total Fat:

19.08g
Carbohydrates:

8.78g
Net Carbohydrates:

5g
Fiber:

3.78g
Protein:

7.38g
Nutritional Disclaimer: We are not certified nutritionists. Nutritional data is provided as a courtesy. The information provided is calculated through a free-web based nutrition calculator and is not guaranteed to be accurate. To ensure we provide you with good information, we look at a variety of calculators.