Some of the links below are affiliate links, meaning, at no additional cost to you, I will earn a comission if you click through and purchase. As an Amazon Associate I earn from qualifying purchases through links in this post. See our Privacy Policy & Terms of Service to learn more.
If you're looking for the Best Fudgy Keto Brownies, look no further! These are so soft, moist and fudgy on the inside, with the traditional thin layer of crispness on the top and edges that we all love.
Join the best new Keto Recipe and Support Facebook Group HERE!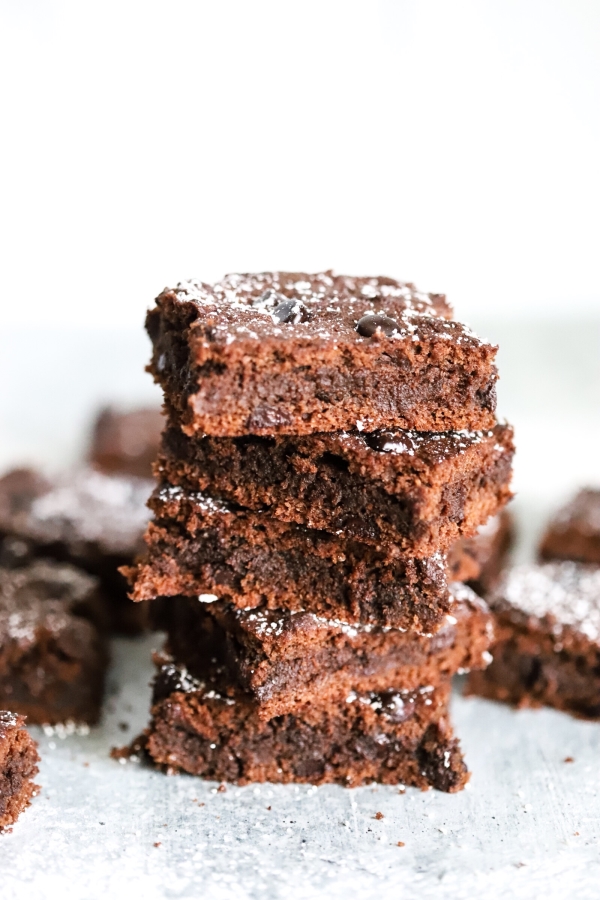 Click Here To Pin Keto Brownies
Perfect Keto Brownie Recipe
Soft, moist, and fudgy brownies are everyones favorite! Sadly though, they're hard to come by while on keto. At least they were!
These amazing keto brownies taste exactly like traditional brownies. Actually, they may taste even better! They are very chocolatey, sweet, and fudgy. Reminds me of our fudge keto cookies, Low Carb Double Chocolate Chip Fudge Cookies!
Another great thing about these brownies is that they have an amazing layer of crispiness on top and on the sides just like the brownies you know and love! There is something magical about that thin layer of crispy goodness.
Some keto brownies are too chocolaty or too soggy, but these are amazingly fudgy and moist, while not being too moist.
Using Sugar Free Chocolate
For this recipe, we of course used lots of chocolate. Specifically, we used unsweetened cocoa powder and chocolate baking chips.
For the cocoa powder, unsweetened works great for keto! Which cocoa powder you use is completely up to your own preference. We do love this one HERE on Amazon though!
There are some good options for cocoa powder though. You can use traditional cocoa powder Dutch processed cocoa. Dutch processed cocoa, in short, is a more bitter form of cocoa powder. It gets its bitterness from the way that it is processed (hence the name). Dutch processed cocoa is soaked in an alkaline solution before it is powdered.
This type of cocoa powder works best with baking powder. While you may have never noticed this type of cocoa powder before (and you're not alone, I have just recently discovered its existence), it is actually very common. Because it is much more mild, it works better in most chocolate foods, like ice cream and hot cocoa.
All in all, Dutch processed cocoa is much more mild. If you've ever tried cocoa powder by itself, you know that it can be very strong. Dutch processed cocoa is not quite as overbearing.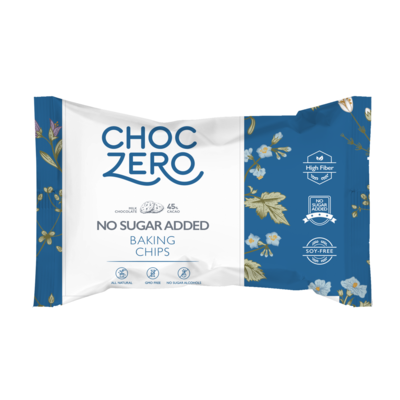 The second most important ingredient in these brownies is chocolate chunks. We always prefer to use ChocZero's chocolate since it tastes amazing and is super keto friendly.
For this recipe, we recommend their NEW no sugar added baking chips. Their new baking chips come in milk chocolate, dark chocolate, and even white chocolate, which gives you even more control over how your brownies turn out. All keto friendly, no artificial sweeteners (sweetened with monk fruit), made with premium cocoa butter, and only 1g net carb per serving!
We cannot recommend these chocolate baking chips enough! They really help to keep these brownies moist and chocolaty.
ChocZero offers a ton of other great products along with these amazing baking chips. All of their chocolates are amazing, and their syrups go perfectly with everyhing, especially chaffles. If you find something you can't live without on their site (and you defiantly will), you can use our discount code "BUTTERTOGETHERKITCHEN" HERE at checkout to save 10% off your entire purchase.
Using Almond Flour
Almond flour is a staple in almost all keto baked goods, and these fudgy keto brownies are no exception. We think that almond flour works best for these brownies because coconut flour can sometimes absorb wet ingredients too well, and can sometimes leave you with a sand-like texture.
Since we were going for a moist and fudgy brownie, we knew that we needed to use almond flour. In our opinion, almond flour is the most flour-like replacement you can find and best for dessert recipes. These brownies are a testament to that fact!
However, if you prefer coconut flour, use 1/4 of the amount of almond flour with coconut flour.
Adding Cold Brew Coffee In Brownies
Cold brew coffee is the secret ingredient for these brownies. I can't say that I exactly understand why cold brew makes these fudgy brownies so good, but we know that it definitely does!
Cold brew really helps to bring out and compliment the chocolateyness of these fudgy brownies. The flavors of coffee and chocolate are somewhat similar, so it makes sense that they would work so well with one another.
If you don't like coffee, don't worry. You honestly would never know that there was coffee in these brownies if you didn't read this. The coffee only serves as a compliment to the chocolate flavor so it goes virtually undetected.
Another great thing about adding cold brew to your brownie batter is that it makes them extra moist and fudgy. We took the easy way out and bought some cold brew at the store, but making it at home is super easy. If you just brew some coffee at home and refrigerate it for a few hours you will be good to go!
How To Make Fudgy Keto Brownies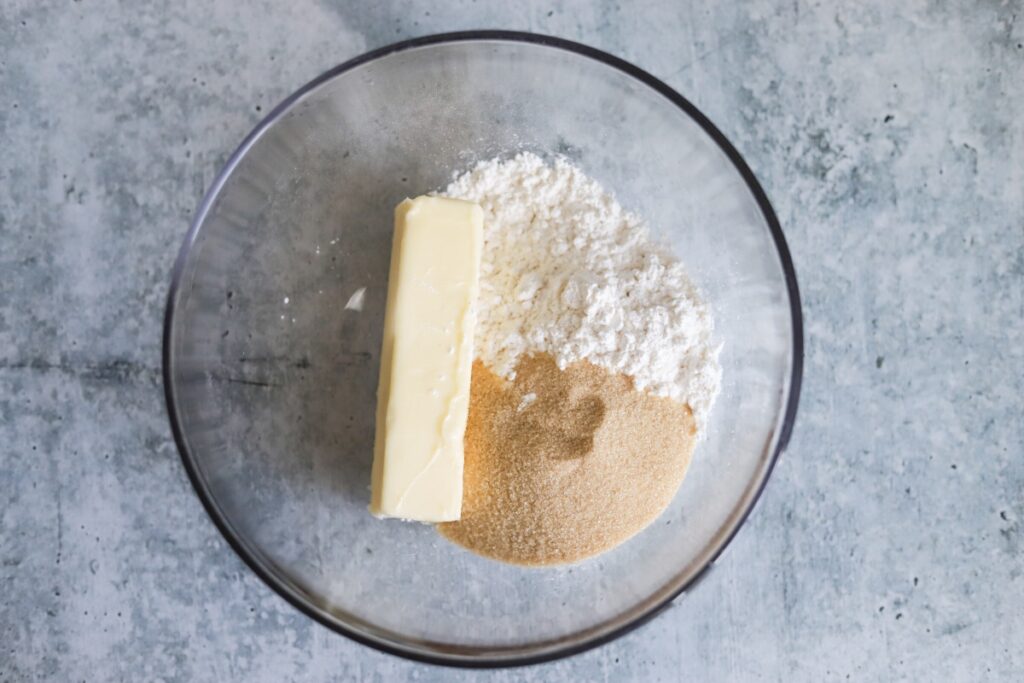 Cream together butter and sweetener.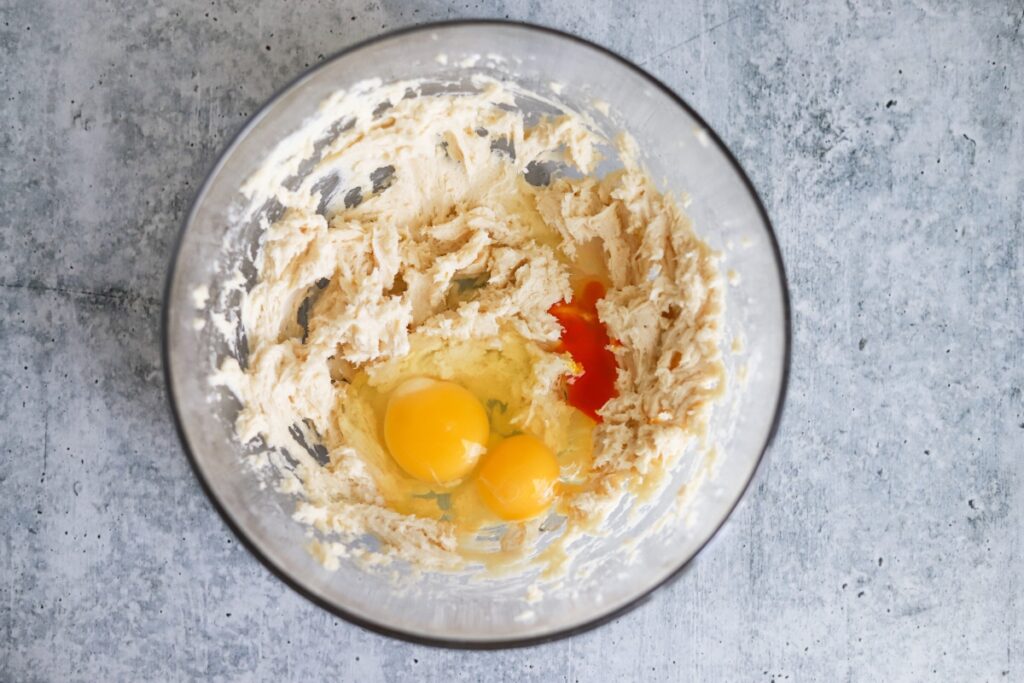 Add eggs and cake batter flavoring to creamed butter and sweetener. Note: we opted to use cake batter flavoring, but you can substitute this for vanilla. We really like the taste of this flavoring so we opt to use it when possible. Cake batter flavoring can be found at just about all grocery stores (near the vanilla extract), or you can find it on Amazon HERE.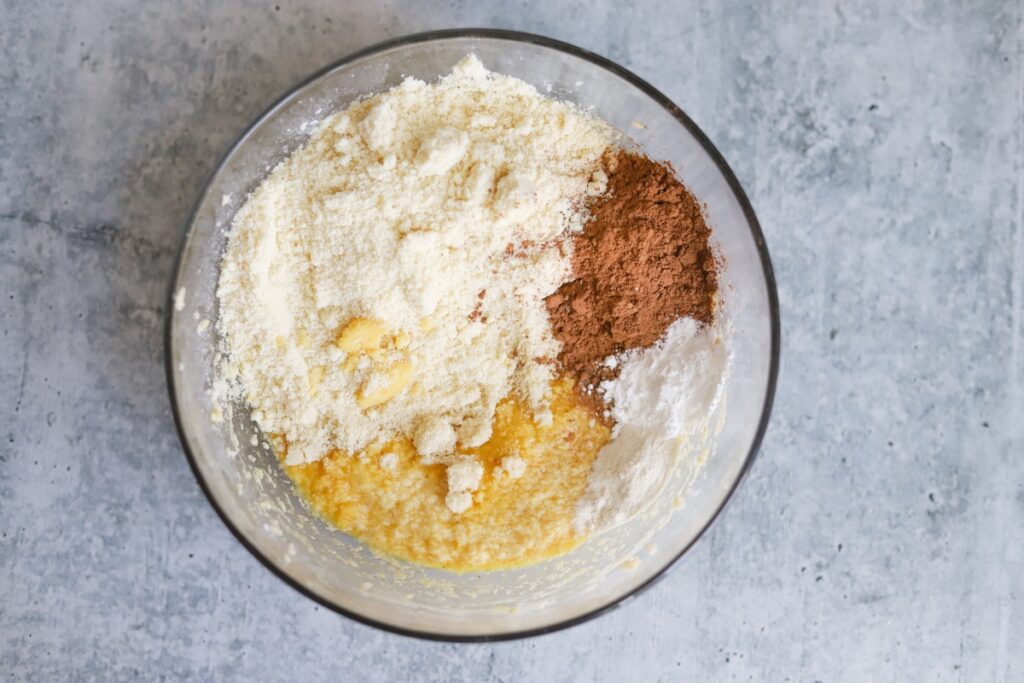 Add in all dry ingredients.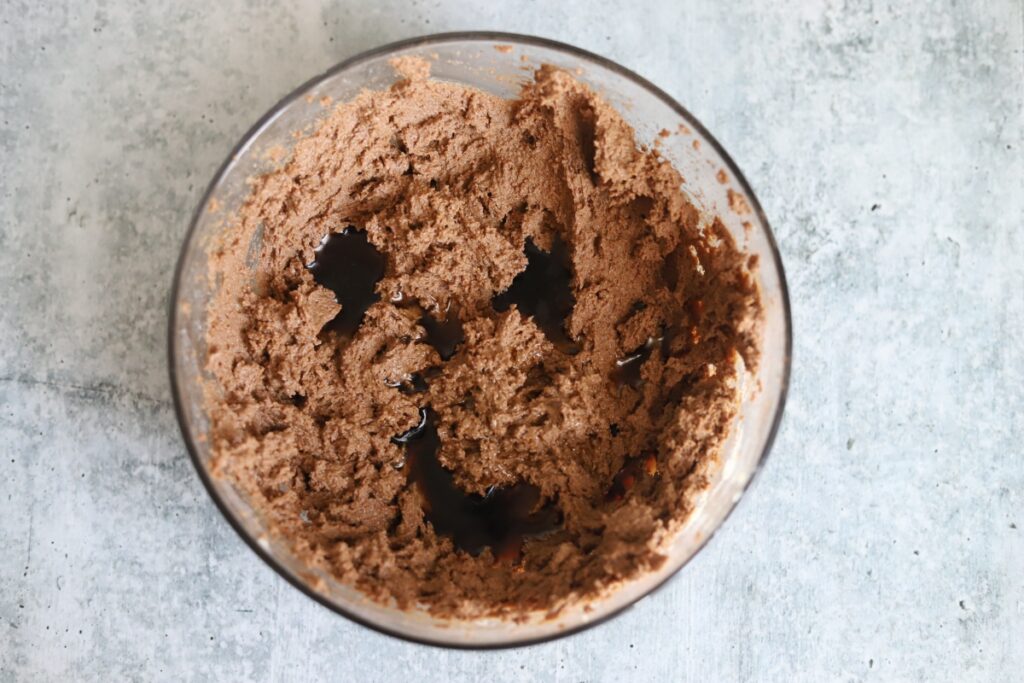 Slowly add in the cold brewed coffee (no, we didn't intentionally make a creepy smily face in the batter. Haha!).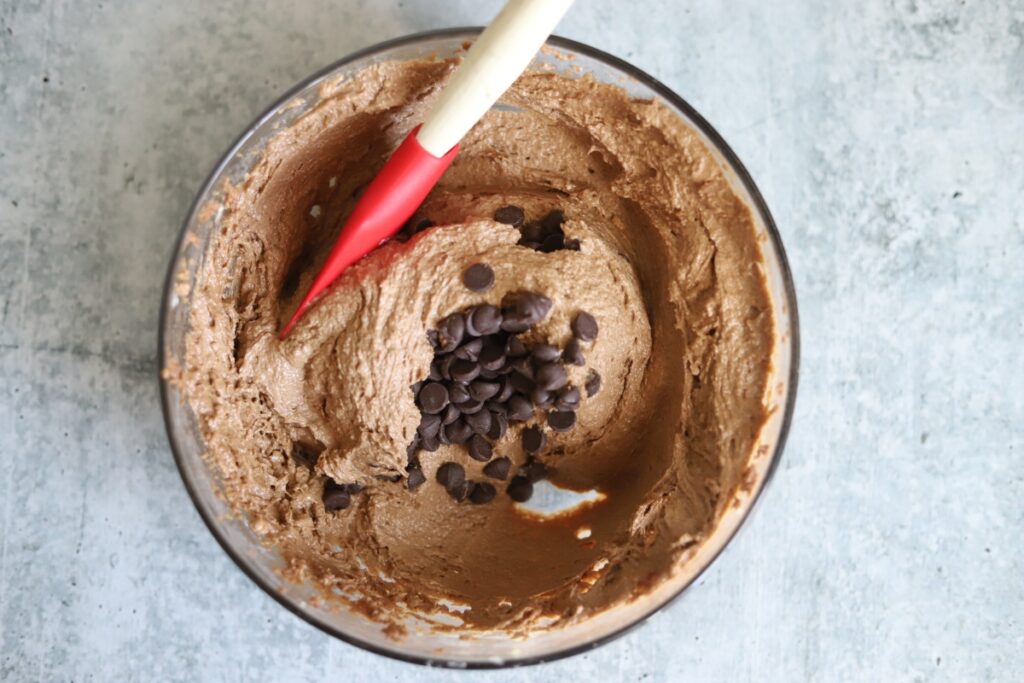 Fold in chocolate chips.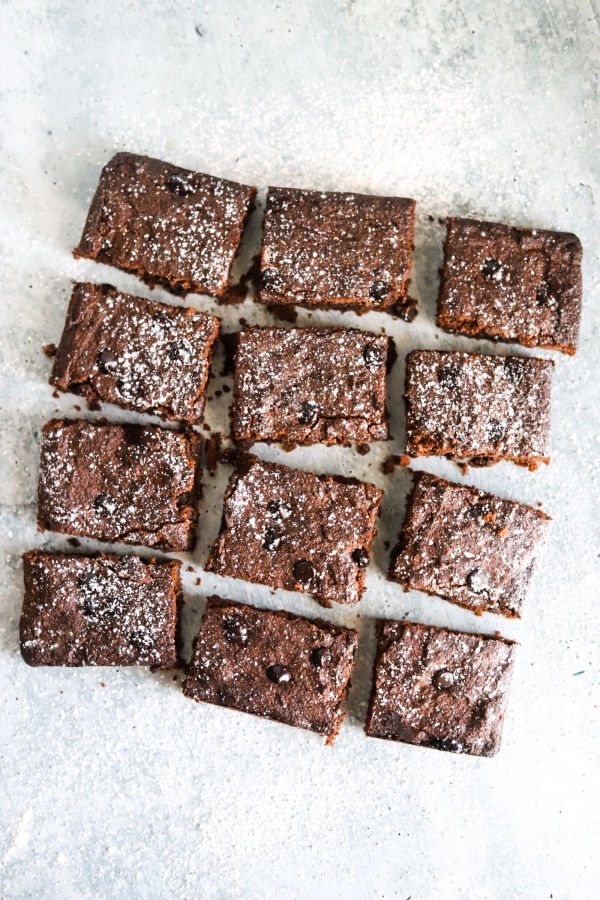 Tips For Making The Best Keto Brownies
Sweetener Combo: Lakanto Powdered Sweetener works best in this recipe, but granular will work well too. Whether you choose to use powdered sweetener or granulated, definitely consider adding in some Lakanto Golden Monk Fruit. Something about golden sweetener (a brown sugar substitute) makes these brownies extra fudgy and moist. However, if you don't have the golden sweetener, just use one full cup of powdered sweetener.
Pan Size: If you like thicker brownies, an 8×8 pan is probably best for this recipe. If you prefer thinner brownies that may be a little crispier around the edges, go with a 9×9 pan. Either way these brownies will turn out really fudgy and delicious!
Extra Chocolate Chips: If you're a chocolate lover, sprinkle some extra ChocZero chocolate chips on top of your brownies before you bake them. This will make them more visually appealing, and most importantly, will make them extra chocolaty!
Don't Overbake!: Are you a cake brownie person or a fudge brownie person? Or, are you just a brownie person? Yeah, me too. If you like your brownies a bit more on the fudgy side, don't over bake your brownies. This will give you a more fudge-like center. Conversely, if you like your brownies a little more well done, add 5-10 minutes to the total bake time.
Flavoring: As mentioned above, we opted to use cake batter flavoring instead of vanilla for these brownies. I know it sounds weird, but it is so good. Use whatever flavoring you prefer: mint, orange, etc. Or just enjoy these brownies as is. You won't be disappointed!
Cool Completely: The most tempting thing in the world is to eat baked goods as soon as they come out of the oven. Resist the temptation, and let these brownies cool before you dig in. This will spare you from burnt fingers and a burn tongue. It will also give your brownies time to rest and become more solid. Just trust the process.
Cutting: If you like things nice and neat, be sure to cut your brownies in a straight-down motion instead of a seesaw motion. If you go crazy on your brownies, they will crumble in fear. Ok not really, but they will get really messy.
Storing: These brownies are really easy to store. I strongly suggest that you do NOT store your brownies in the fridge because they will dry out a lot quicker and you wont like that. Keep them at room temperature to keep them soft and chewy, they will stay nice and fresh for about 3-4 days. Make sure they are stored in an airtight container to keep air from drying them out as well.
Freezing: Yes, you can freeze brownies! If you make a batch that yo want to keep fresh for a long period of time, using the freezer is your best option. Make sure to wrap your brownies very tightly, preferably in plastic wrap. When your ready to eat them, simply let them thaw out while still wrapped at room temperature. If you need them ready a little faster, pop them in the microwave!
What Sweetener To Use
As with all of our sweet treats, we used Lakanto's Monkfruit for this recipe. Specifically, we used their Powdered Sweetener and their Golden Sweetener (brown sugar substitute). Lakanto is by far our favorite brand simply because it tastes the most like sugar, has no aftertaste, and does not raise your glucose levels!
If you want to try these amazing sweeteners out for the first time, or if you just need to restock, shop Lakanto's website and use our discount code "BUTTERTOGETHER" and save 20% off your entire order!
Click HERE To Pin Keto Brownies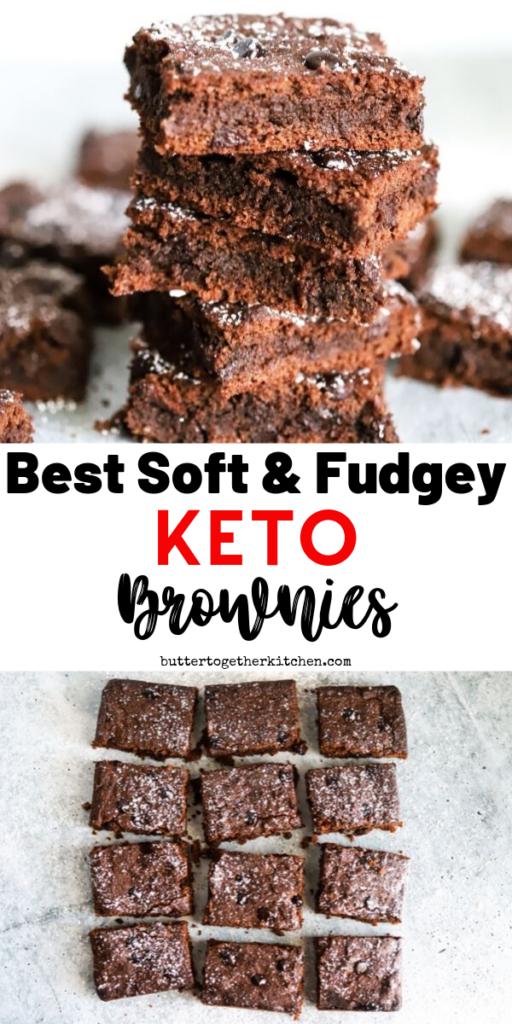 Have you tried this recipe or any other recipe on the blog? Please rate it below and let us know what you think in the comments! We love hearing from you!
You can also share it on instagram and use the hashtag #buttertogetherkitchen and we will feature you on our page.
Enjoy!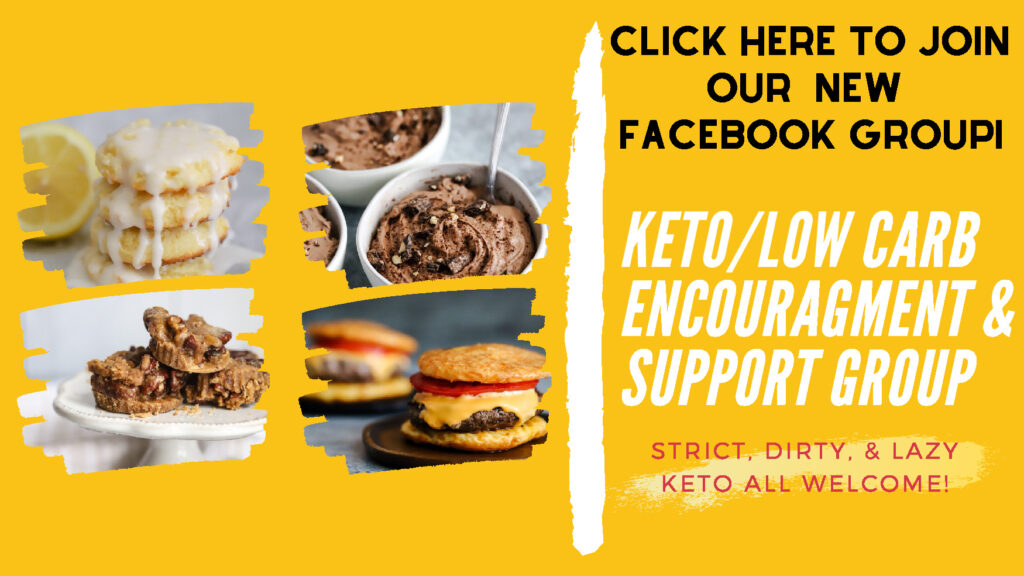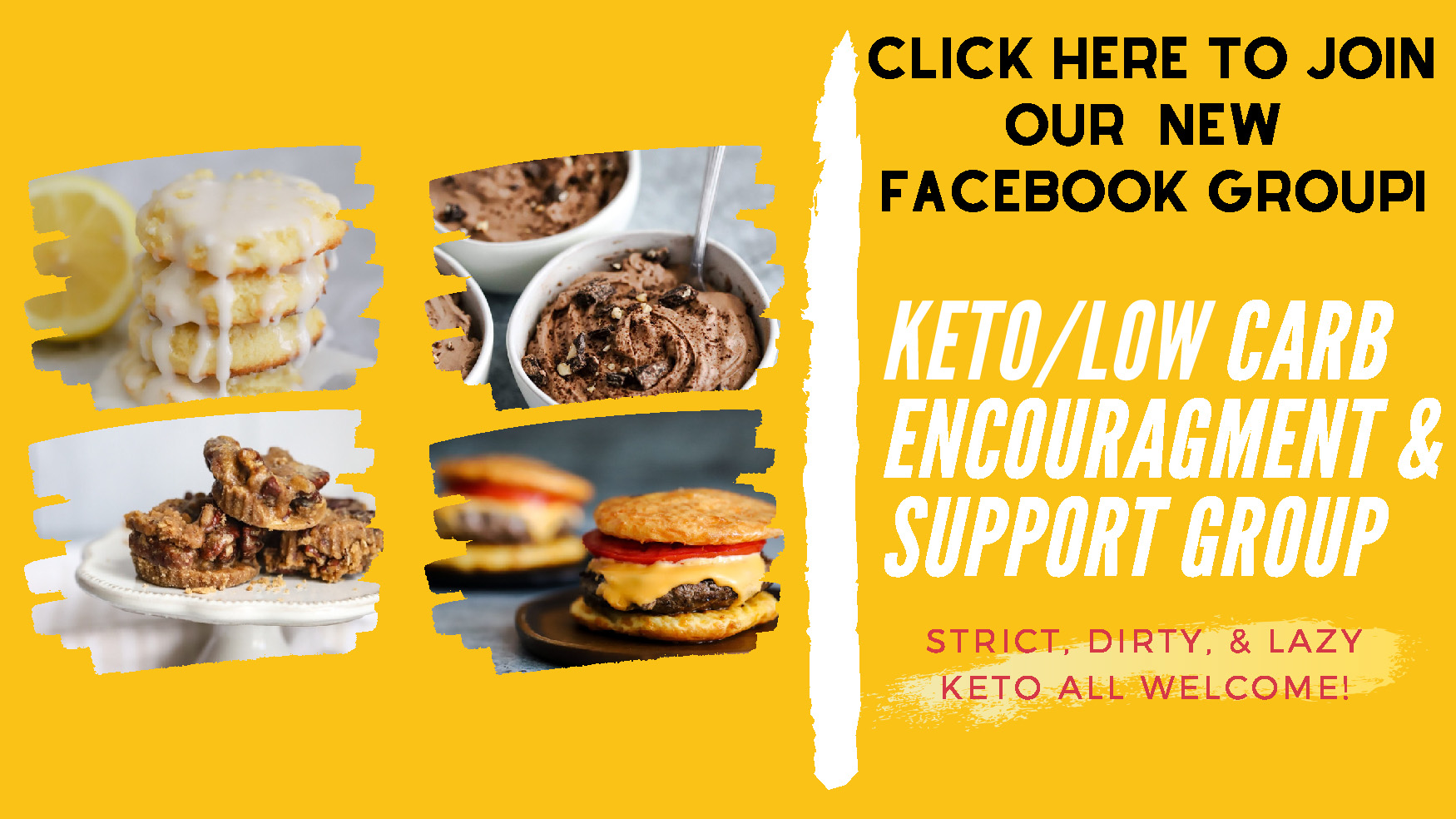 Some Other Recipes You Might Enjoy:
Low Carb Double Chocolate Chip Fudge Cookies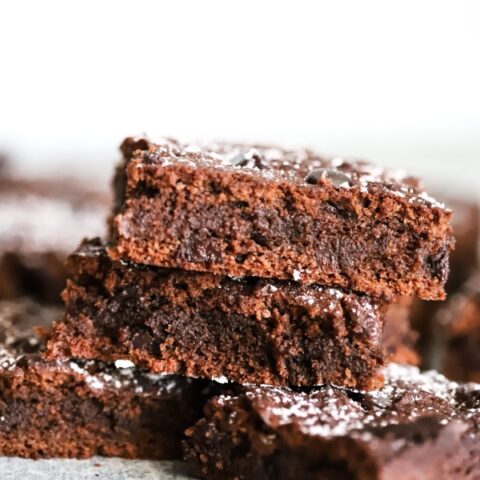 Best Fudgy Keto Brownies
Total Time:
1 hour
5 minutes
If you're looking for the Best Fudgy Keto Brownies, look no further! These are so soft, moist and fudgy on the inside, with the traditional thin layer of crispness on the top and edges that we all love.
Ingredients
1/2 cup Butter, softened
2 Eggs
2 cups Almond Flour
1/2 cup Cold Brew Coffee
Instructions
Preheat oven to 350 degrees. Line an 8x8 inch pan with parchment paper or grease with butter.
In a medium mixing bowl, whisk together the softened butter and sweeteners until creamy.
Whisk in eggs and cake batter flavoring.
Add in almond flour, unsweetened cocoa powder, baking powder, and xanthan gum. Mix in well.
Slowly add in the cold brew coffee until fully incorporated.
Fold in chocolate chips.
Bake brownies for 55-60 minutes. Allow brownies to set for about 30 minutes before cutting and serving. Enjoy!
Notes
Store at room tempture in an air tight container for 3-4 days.
Nutrition Information:
Yield:

12
Serving Size:

1
Amount Per Serving:
Calories:

210.4
Total Fat:

19.5g
Carbohydrates:

7g
Net Carbohydrates:

2.67g
Fiber:

4.33g
Protein:

5.2g
Nutritional Disclaimer: We are not certified nutritionists. Nutritional data is provided as a courtesy. The information provided is calculated through a free-web based nutrition calculator and is not guaranteed to be accurate. To ensure we provide you with good information, we look at a variety of calculators.