Some of the links below are affiliate links, meaning, at no additional cost to you, I will earn a comission if you click through and purchase. As an Amazon Associate I earn from qualifying purchases through links in this post. See our Privacy Policy & Terms of Service to learn more.
Keto Strawberry Upside-Down Mug Cake is as good as it sounds! A quick and simple mug cake as delicious as it is easy!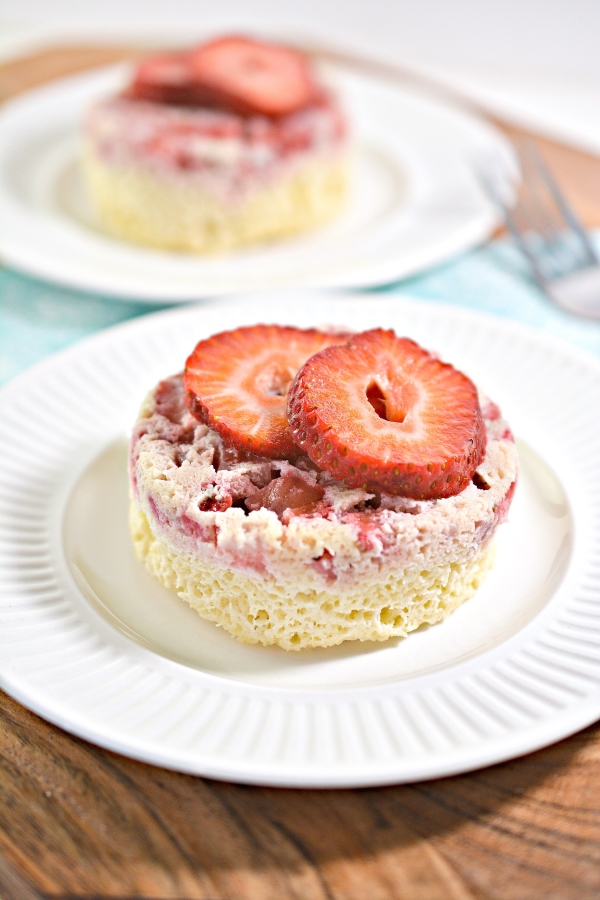 Click Here To Pin Keto Strawberry Upside-Down Mug Cake
Keto Strawberry Mug Cake
Who knew that eating cake upside-down made it taste so much better?! This keto strawberry upside-down mug cake is so easy to make and is super customizable. You can swap strawberries for your favorite fruit, add some cocoa powder to make it a chocolate cake (similar to our Best Chocolate Keto Mug Cake), or just make a plain vanilla cake.
This recipe is so easy that you can afford to play around with the ingredients, and trust me, you will be looking for every excuse to make this recipe over and over!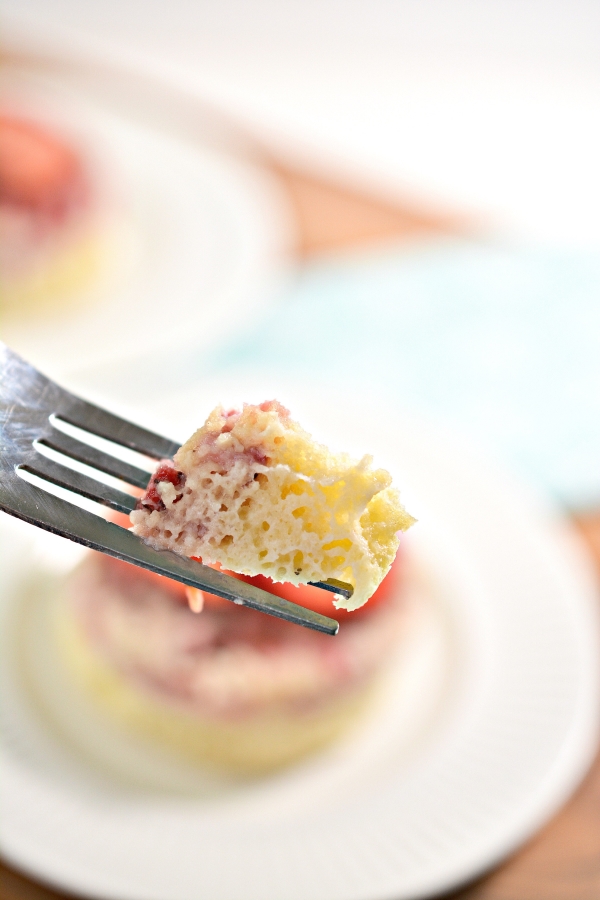 Best Keto Mug Cake Texture
Of course this cake tastes delicious, but it also looks (and feels?) good! The texture of this cake is out of this world! It is so fluffy, yet dense enough to feel like an authentic cake. The strawberries also help to keep the cake moist. As they cook in the microwave, the juice releases into the batter making it super moist and sweet.
How To Make Keto Strawberry Upside-Down Mug Cake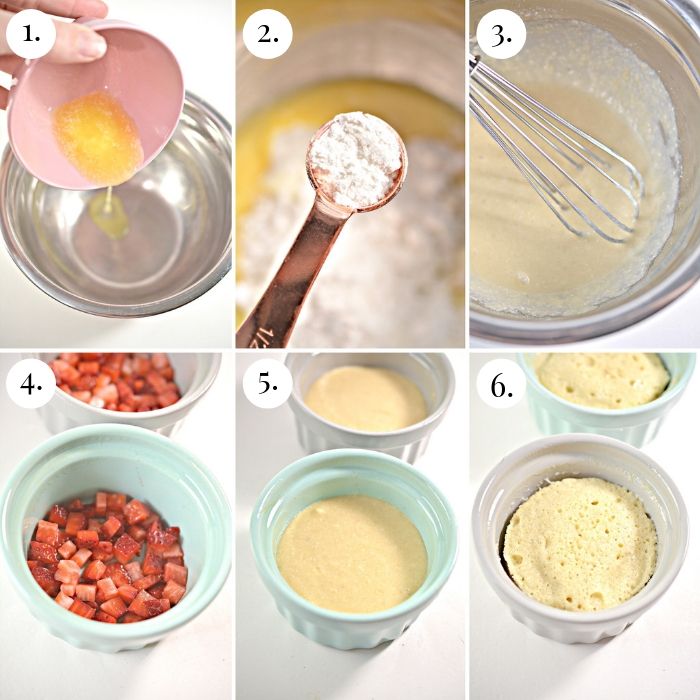 Pour melted butter into mixing bowl.
Add in dry ingredients.
Whisk together until well mixed.
Place chopped strawberries at the bottom of two microwave safe ramekins.
If you are using small bowls (ramekins), you could make two small cakes.
Microwave and enjoy!
Note: If you not have any ramekins, simply use ONE microwave safe mug for this recipe instead.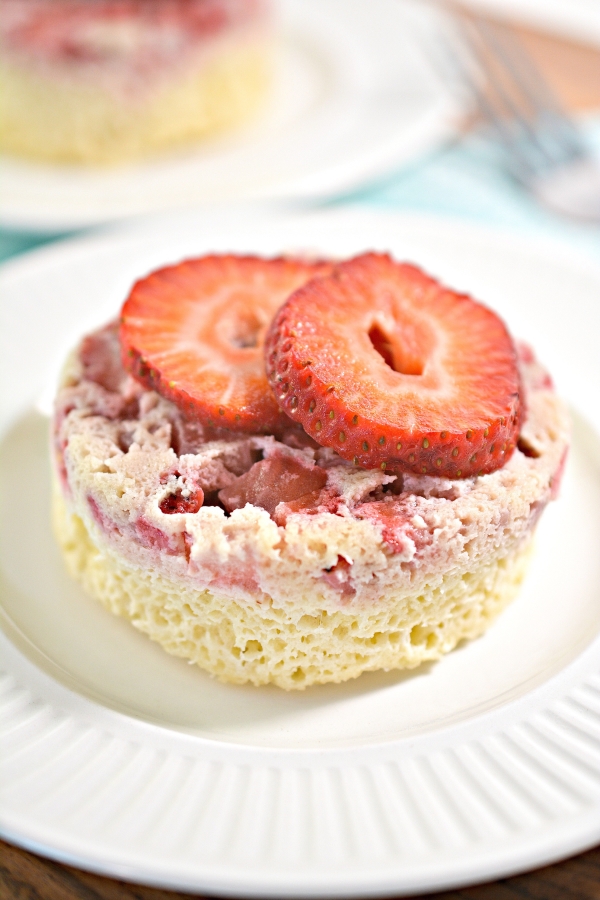 Choosing The Best Keto-Friendly Powdered Sweetener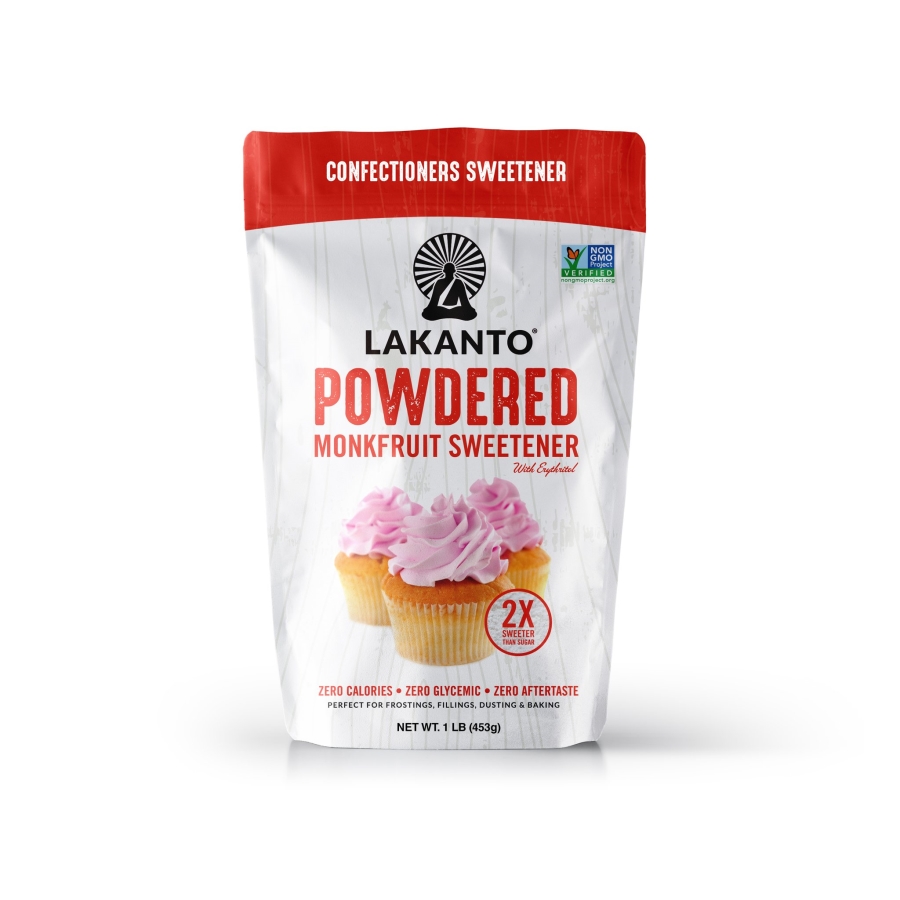 There are a number of keto-friendly powdered sweeteners out there, but none of them are as good as Lakanto's powdered monkfruit. This product has no nasty aftertaste, is zero glycemic, and most importantly, it is delicious!
If you want to try this product for the first time, or if you need to reorder to make this yummy recipe, you can order directly from Lakanto's website and use our code "BUTTERTOGETHER" at checkout to receive 20% off your entire purchase!
Nutrition (per mug cake) Makes 2 Mug Cakes
Calories: 150.5 | Fat: 12.95g | Carbs: 5.35g | Fiber: 2.15g | Protein: 5.65g | Net Carbs: 3.2g
Click Here To Pin – Sharing Is Caring!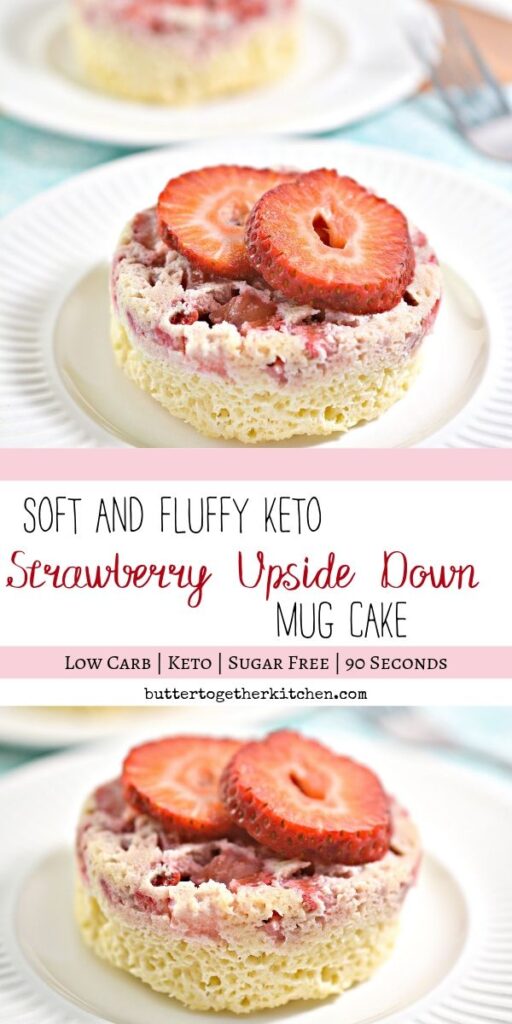 Have you tried this recipe or any other recipe on the blog? Please rate it below and let us know what you think in the comments! We love hearing from you!
You can also share it on instagram and use the hashtag #buttertogetherkitchen and we will feature you on our page.
Enjoy!
SOME OTHER RECIPES YOU MIGHT ENJOY:
Best Keto Low Carb Carrot Cake
Low Carb Orange Creamsicle Cake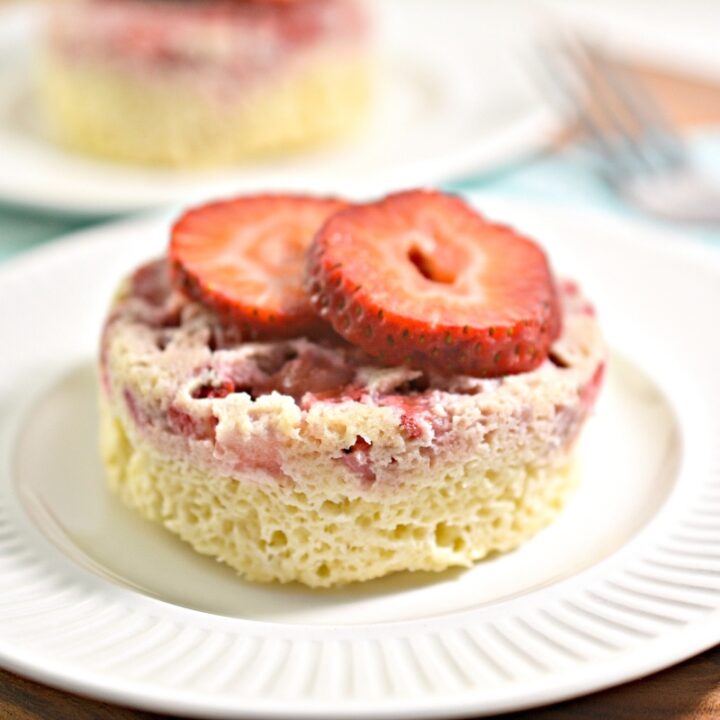 Keto Strawberry Upside-Down Mug Cake
Keto Strawberry Upside-Down Mug Cake is as good as it sounds! A quick and simple mug cake as delicious as it is easy!
Ingredients
1 tbsp Butter, melted
1 Egg, beaten
1 tbsp Sour cream
1 tsp Baking powder
½ tsp Baking soda
1 tsp Vanilla extract
1/4 cup Strawberries, chopped
Instructions
Grease two microwave safe ramekins and set aside.
In a mixing bowl, combine the butter, egg, sour cream, almond flour, coconut flour, powdered sweetener, baking powder, baking soda and vanilla extract. Whisk until the ingredients are completely combined.
Line the bottom of each ramekin with a layer of chopped strawberries.
Divide the batter between the two ramekins, and spread it evenly on top of the layer of strawberries.
Microwave the ramekins on high for 90 seconds. If still wet on top, microwave for an additional 20 seconds.
Let the ramekins sit for a minute or two, and then flip over onto a plate. Serve immediate with fresh strawberry slices for garnish, or with some heavy whipping cream.
Notes
If using a microwave safe mug, just use one for this recipe. Ramekins are smaller so you would split the batter in two.
Nutrition Information:
Yield:

2
Serving Size:

1
Amount Per Serving:
Calories:

150.5
Total Fat:

12.95g
Carbohydrates:

Net Carbs: 3.2g
Fiber:

2.15g
Protein:

5.65g
Nutritional Disclaimer: We are not certified nutritionists. Nutritional data is provided as a courtesy. The information provided is calculated through a free-web based nutrition calculator and is not guaranteed to be accurate. To ensure we provide you with good information, we look at a variety of calculators.