Some of the links below are affiliate links, meaning, at no additional cost to you, I will earn a comission if you click through and purchase. As an Amazon Associate I earn from qualifying purchases through links in this post. See our Privacy Policy & Terms of Service to learn more.
You are going to love these low carb Jicama Fries because they are the perfect alternative to the white potato French Fries. These are crispy and well seasoned!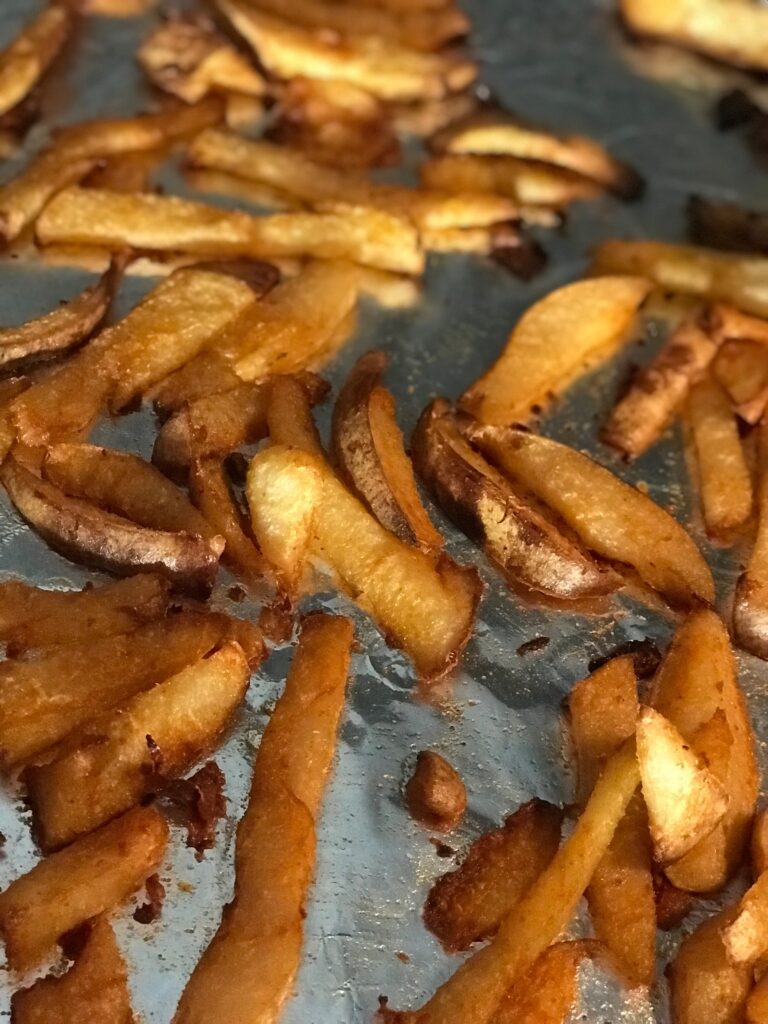 Low Carb Jicama French Fries
French fries.
They're pretty much everyones favorite food. They're soft yet crispy goodness! But, sadly they're loaded with carbs. However, there is a way to still enjoy French fries with a fraction of the carbs! Enter Jicama French fries!

What Is Jicama?
Jicama is an awfully unique root vegetable. It has the shape of a large yellow onion, the skin of a potato (though a bit thicker), the taste of an apple (roughly), and the texture of a pair. In other words, it's not exactly common. BUT, commonality does not always equate deliciousness! Jicama is super versatile, can be prepared a number of different ways, and is pretty low in carbs!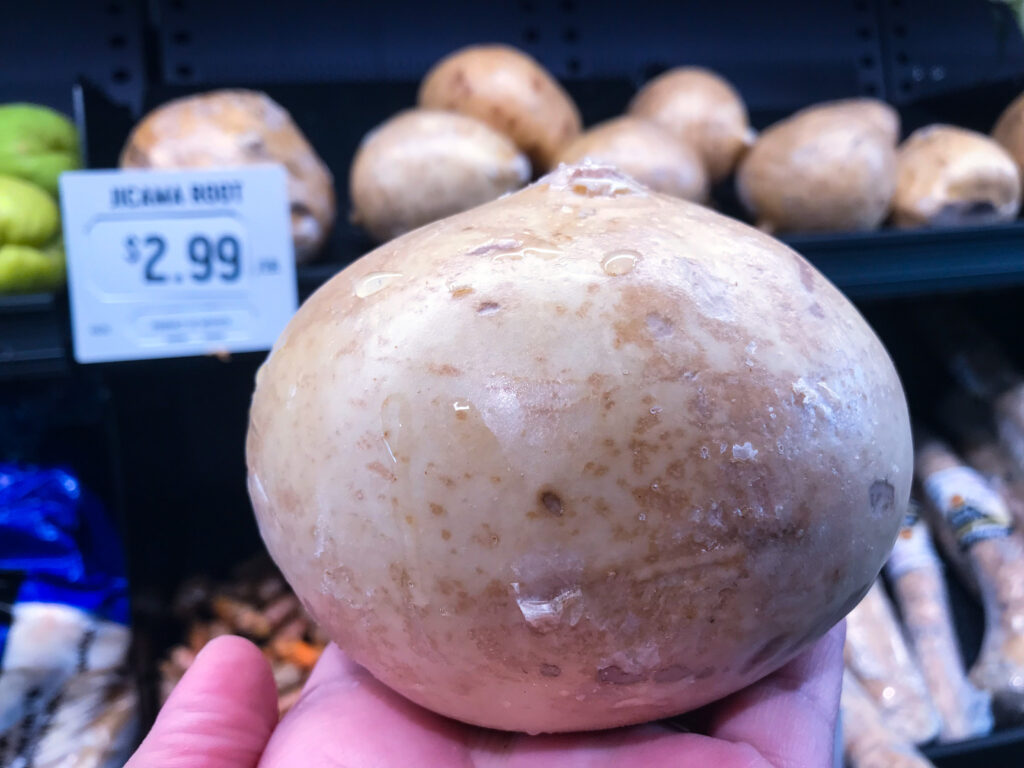 How To Make Low carb Jicama French Fries:

Have you ever made home made French fries? If you have then good news! You pretty much already know how to make Jicama French fries then. There is only one additional step, but we'll get to that in just a second.
First, as you'll see in photo 1, you'll want to cut your Jicama into French fries. Once you start this process, you'll quickly begin to notice that Jicama is hard. Very hard. You'll need a sharp knife and a little bit of elbow grease to chop these into fries. They will be worth the work though! Check out Vie Belles store, they offer high-quality products that are durable and will last for generations.
The next step, in photo 2, is is a little strange. Since Jicama is so hard, you'll want to boil it for 15 minutes. Trust me, you do not want to skip this step. If you do, your fries will be as crispy as apple slices. Once you boil it, it will be soft, the sweetness of it will mostly gone, and it will pretty much look just like a normal fry (maybe just a little soggier).
Then, as you'll see in photo 3, strain them and toss them in olive oil. Now for the fun part – seasoning them! We used paprika, cayenne pepper, salt, and pepper, but you can use whatever seasonings you prefer.
Finally, as shown in photo 4, we baked the Jicama fries at 425 degrees for about 30 minutes. The result was crispy, soft Jicama fries that could pretty much pass for the real thing!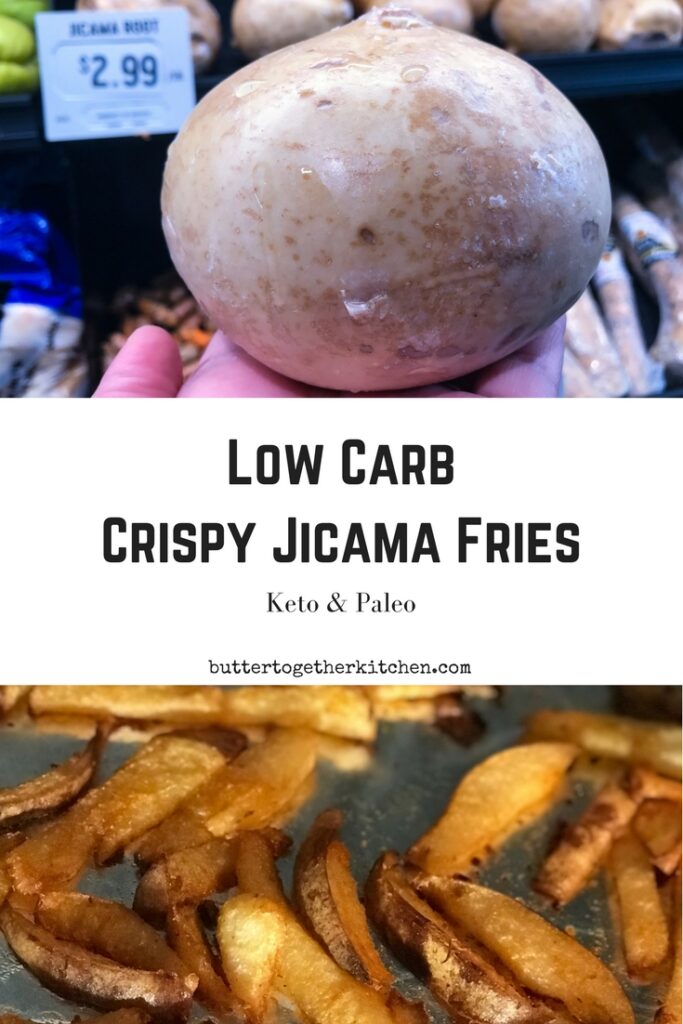 Have you tried this recipe or any other recipe on the blog? Please rate it below and let us know what you think in the comments! We love hearing from you!
You can also share it on instagram and use the hashtag #buttertogetherkitchen and we will feature you on our page.
Enjoy!More delicious keto recipes? You'll love our tasty keto buns (best ever), our incredible keto pizza with homemade sauce, and out keto snickerdoodle cookies for dessert!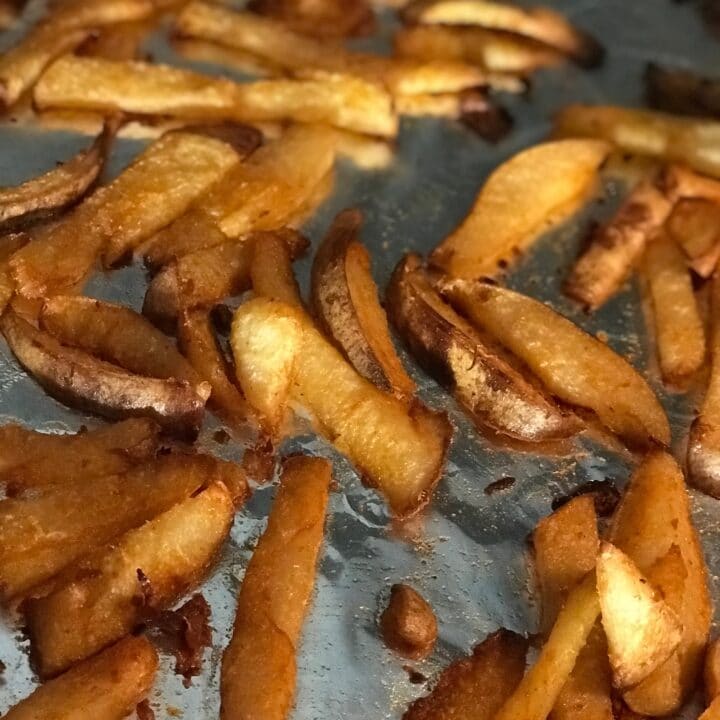 Low Carb Crispy Jicama French Fries
You are going to love these low carb Jicama Fries because they are the perfect alternative to the white potato French Fries. These are crispy and well seasoned!
Ingredients
1 Medium Jicama
1 tbs salt
2 tsp Black Pepper
2 tsp Cayenne Pepper
2 tsp Paprika
4 tbs Olive Oil
Instructions
Preheat oven to 425 degrees.
Chop the Jicama into the shape French fries and boil for 15 minutes.
Strain and place them in a large bowl.
Coat fries with olive oil and then season with salt, pepper, cayenne pepper, and paprika.
Arrange Jicama fries on a large baking sheet covered with aluminum foil.
Bake at 425 for 30 minutes. Turn the fries half way through to ensure that both sides end up crispy!
SaveSave
SaveSave
SaveSave
SaveSaveSaveSave
SaveSave
SaveSave
SaveSave
SaveSave
SaveSave
SaveSave
SaveSave
SaveSave
SaveSave
SaveSave
SaveSave
SaveSave
SaveSave