Some of the links below are affiliate links, meaning, at no additional cost to you, I will earn a comission if you click through and purchase. As an Amazon Associate I earn from qualifying purchases through links in this post. See our Privacy Policy & Terms of Service to learn more.
Looking for the perfect stocking stuffer for yourself or a loved on on keto? We've put together the ultimate guide to finding the right gifts, all for under $25! Enjoy this great list of keto stocking stuffer ideas.
Join the best new keto recipes, encouragement, and support Facebook Group HERE!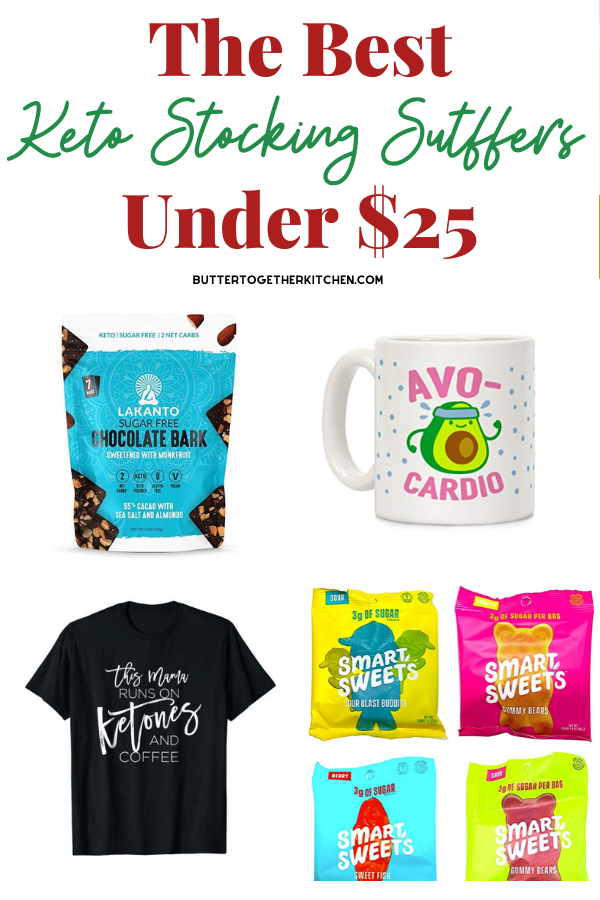 Click HERE To Pin Keto Stocking Stuffer Ideas
Keto Stocking Stuffers Under $25
Maybe the most underrated of all Christmas traditions is placing gifts in stockings. Whether you open stockings before or after gifts, it's always a fun experience that can sometimes feel like Christmas part 2.
Typically, stockings are filled with small gifts and sweet treats, which can make it really hard to fill a keto-er's stocking!
The good news is that a keto stocking can still be fun and filled with awesome goodies and treats, all while sticking to a keto diet. All of the items on this list will make for an awesome stocking!
If you're also looking for amazing keto gift ideas, be sure to check out our guide to The Best Keto Gifts on Amazon.
Also looking for keto holiday treats? Checkout out Ultimate List of Keto Holiday Dessert Recipes!
Keto Stocking Stuffers Under $25