Some of the links below are affiliate links, meaning, at no additional cost to you, I will earn a comission if you click through and purchase. As an Amazon Associate I earn from qualifying purchases through links in this post. See our Privacy Policy & Terms of Service to learn more.
Easy Sugar Free Keto Peanut Butter Fudge is the best sweet treat! Enjoy the richness and creaminess of fudge without the sugar.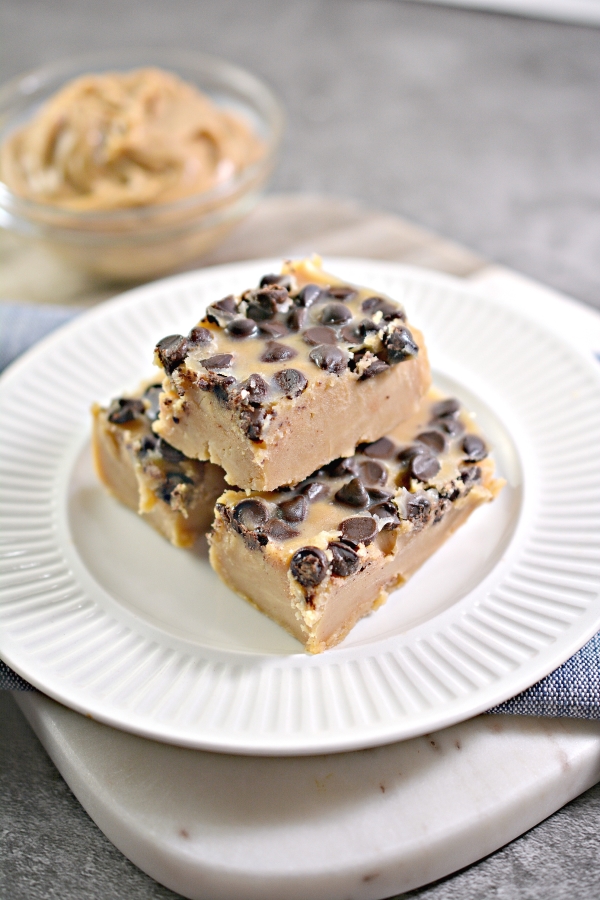 Click Here To Pin Keto Peanut Butter Fudge
Sugar Free Keto Peanut Butter Fudge
There aren't many flavors better than peanut butter and chocolate. In this sugar free keto peanut butter fudge, the two have been perfectly married together so that YOU can live happily ever after!
This isn't the first time we've used these two ingredients to make a delicious treat! If you don't believe me, check out our Low Carb Double Stuffed Peanut Butter Cups!
Not only does this sugar free fudge taste great, but it also has the best texture!
We used Lakanto's powdered monkfruit to get the perfectly creamy and smooth texture of the fudge you know and love! This sugar free fudge is so rich and satisfying that one piece is probably enough to cure your sweet tooth, making this an awesome snack to last all week!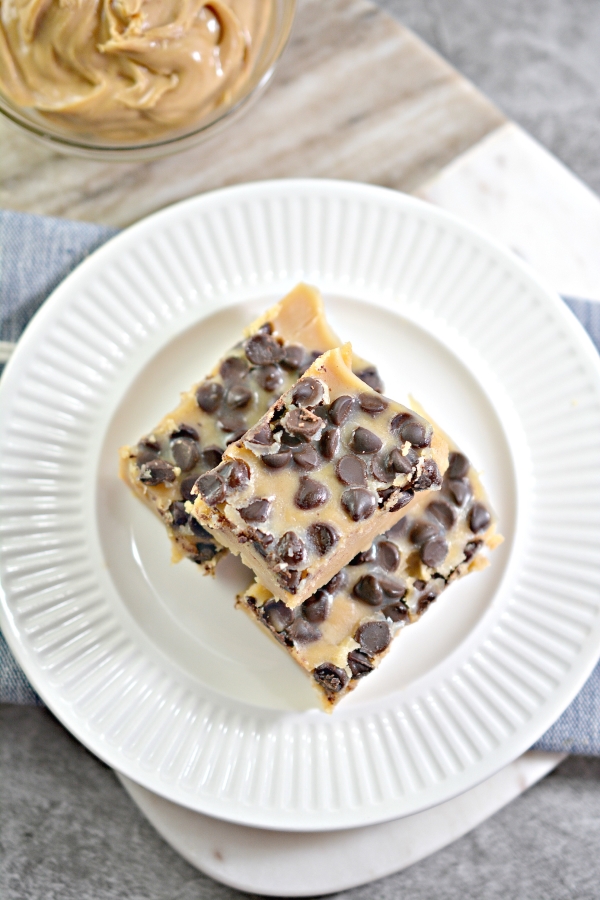 Best Keto Chocolate Chips To Use
Any sugar free chocolate chip will work great in this recipe, but in our opinion if you are on a ketogenic diet, Lily's chocolate chips or Fat Fit Go's Chocolate Chips, are the best!
Both of these chocolate chips are completely keto, they are both made with clean ingredients, and maybe most importantly, they are both unbelievably delicious! You won't have to deal with any nasty aftertastes or chalkiness with these delicious chocolate chips!
How To Make Keto Peanut Butter Fudge: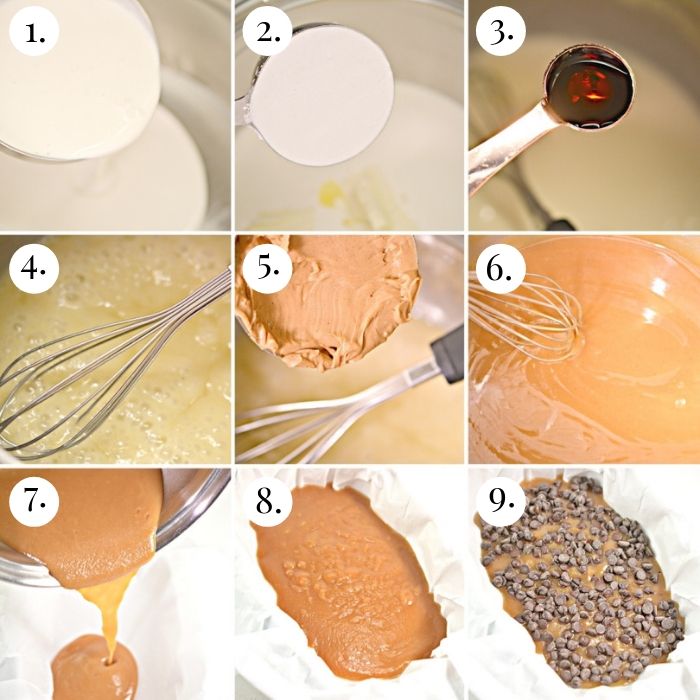 Over medium-high heat, warm the heavy cream and butter in a pot.
Whisk in sweetener and bring mixture to a low boil.
Stir constantly to ensure that the mixture does not burn; add in vanilla extract.
Once mixture begins to thicken and turn a golden-brown color, remove from heat.
While the mixture is still very hot, add in peanut butter.
Whisk until creamy.
Pour entire mixture into a pan lined with parchment paper.
Ensure that mixture has settled evenly.
Sprinkle with chocolate chips and allow to freeze for an hour, then place in fridge for at least 2 hours!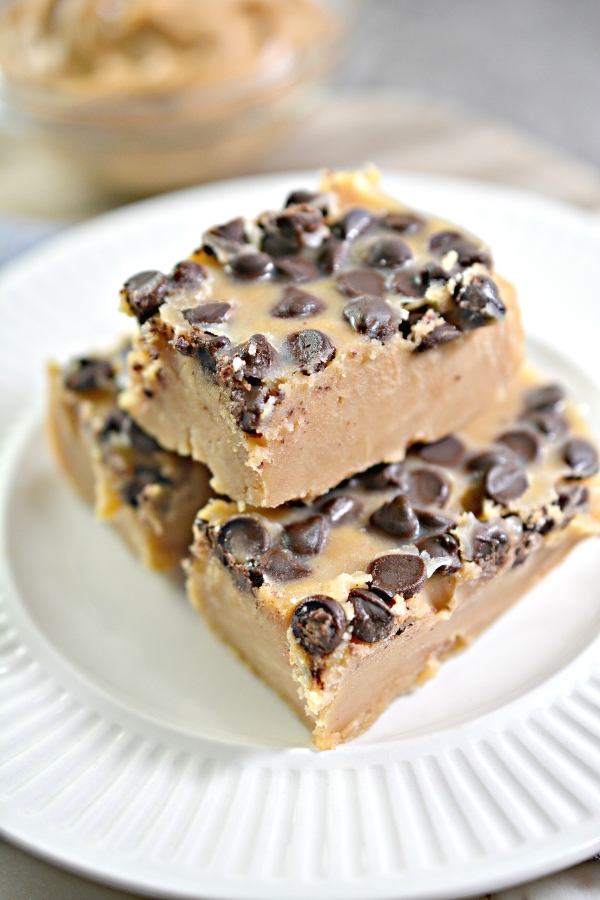 Try This Monk Fruit Sweetened Keto-Friendly Fudge For Dessert!
This Keto Fudge recipe, like most of all my keto dessert recipes, is sweetened with Lakanto Monk Fruit Sweetener, which is a natural and net-carb free sweetener.
Particularly, this recipes uses their powdered sugar substitute, Lakanto Powdered Sweetener! We have loved this brand and their products from the beginning of our keto journey. We really do find it the best tasting sweetener without any aftertaste or cooling affects that many other keto-friendly sweeteners have.
If you've never tried monk fruit sweetener, we highly recommend giving it a try! We love their classic, powdered, and golden sweeteners! You can use code "BUTTERTOGETHER" for 20% off your Lakanto order on Lakanto's website.
Nutrition (per serving) Makes 10 Pieces
Calories: 200.6 | Fat: 19g | Carbs: 6.27g | Fiber: 2.52g | Protein: 3.63g | Net Carbs: 3.75g
Click Here To Pin Keto Peanut Butter Fudge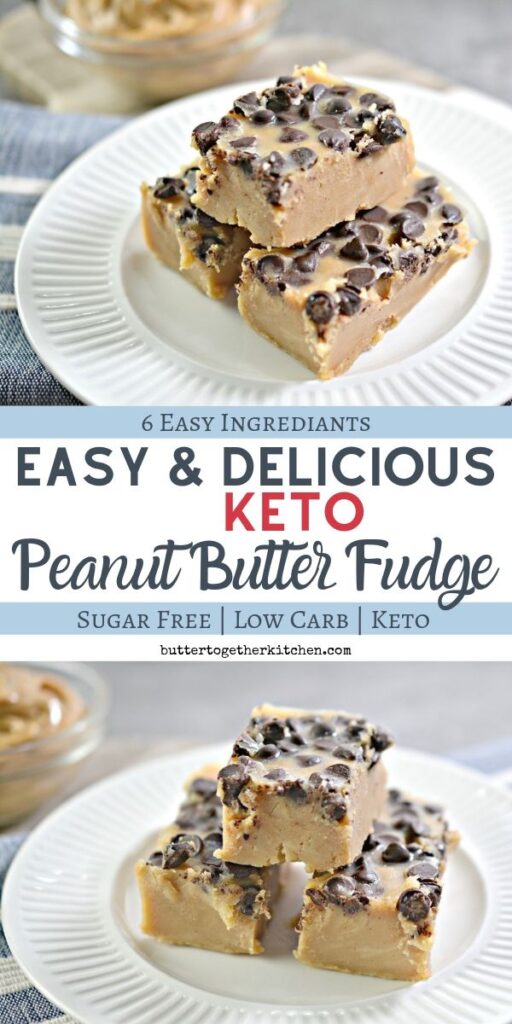 Have you tried this recipe or any other recipe on the blog? Please rate it below and let us know what you think in the comments! We love hearing from you!
You can also share it on instagram and use the hashtag #buttertogetherkitchen and we will feature you on our page.
Enjoy!
SOME OTHER RECIPES YOU MIGHT ENJOY:
Thick and Creamy Chocolate Keto Pudding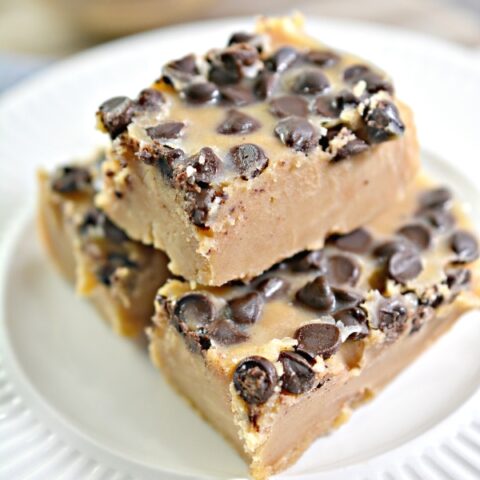 Keto Peanut Butter Fudge
Easy Sugar Free Keto Peanut Butter Fudge is the best sweet treat! Enjoy the richness and creaminess of fudge without the sugar.
Ingredients
1 cup Heavy Whipping Cream
2 tbsp Unsalted butter
1 tsp Vanilla extract
Instructions
Heat the heavy whipping cream and 2 tbsp of butter in a pot over medium high heat.
Whisk in Lakanto's powdered monkfruit until well combined and bring the mixture to a low boil.
Stir continuously and add in 1 tsp of vanilla extract. Continue to cook the mixture down over medium heat until it thickens and begins to turn a bit light brown in color.
Once thickened, remove the mixture from heat and whisk in the peanut butter until smooth and creamy.
Pour the mixture into a parchment lined loaf or other small pan.
Wait for the mixture to cool for a few minutes, then sprinkle ⅓ cup of Lily's baking chips across the surface of the fudge.
Place the fudge into the freezer for 1 hour, then chill in the fridge for at least 2 hours.
Slice the fudge into 10 pieces and serve. Store remaining fudge in an airtight container in the freezer.
Nutrition Information:
Yield:

10 Servings
Serving Size:

1 Servings
Amount Per Serving:
Calories:

200.6
Total Fat:

19g
Carbohydrates:

Net Carbs: 3.75g
Fiber:

2.52g
Protein:

3.63g
Nutritional Disclaimer: We are not certified nutritionists. Nutritional data is provided as a courtesy. The information provided is calculated through a free-web based nutrition calculator and is not guaranteed to be accurate. To ensure we provide you with good information, we look at a variety of calculators.